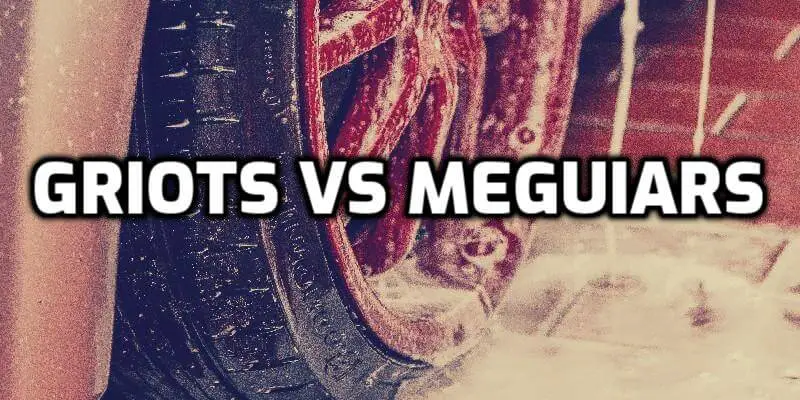 Griot's Garage and Meguiar's are some of the prominent brands in making liquid car care products. Now, liquid wax is a good product if you want to have a shining car. Nevertheless, the real debate strikes seven cylinders when you go on a quest to find the best one.
In this quest, we are comparing the two giants up against each other. We will be looking into every possible aspect. It will help us determine the superior product. So, buckle up your seat belts. It is going to be a fierce ride!
Griots Garage vs Meguiars
As we are looking into liquid waxes, the key criteria of the showdown will be longevity and texture. You see, the main purpose of waxing your car is to get a shining and polished look. Therefore, the prime concern will be hovering around this very plan.
After that, we will consider some minor yet effective productivity. Like product formula, unit description, size, extra features and most importantly, pricing. All of these inspections will help us determine the better product in the market.
Now, it is crucial to compare similar products. So, today, we will be overviewing Carnauba based wax. Both of the companies have their version of Carnauba based liquid wax. We will be considering those.
| | |
| --- | --- |
| | |
| | |
| This Is High Quality Carnauba Based With Liquids Wax. | This is a solution of Carnauba Wax and unique protective polymers. |
| By following the apply process, it will ensure durability | It is durable for the protective polymers |
| Easy on and easy off feature allows it to apply easily. | It comes with a high-end polishing fabric, which allows you to polish smoothly. |
| Safe for all painted surfaces & Can be used on matte and vinyl wrapped surfaces | Safe and effective on all glossy paint finishes including clear coats |
| can be use in both way using hand or DA Polisher. | Can be applied by hand or with DA polisher. |
| Gently loosens and lifts dust, pollen, smudges, and light grime. | Can give you high gloss protection to a previously cleaned and polished paint finish |
| | |
Griots Garage Review
Under the brand name, Griot's Garage 11013 Liquid Wax 3-In-1 is a popular choice. This particular liquid wax is very effective in many ways. The first thing that caught my eyes is the 3 in 1 feature. It can fix minor issues regarding the paint job!
Yes, you read it right! We will get back to that later on in the discussion. For instance, we will be focusing on the general features. This is a Carnauba based liquid wax. It is capable of delivering a deep glossy finish. On top of that, it is very durable.
There are some instructions that you need to follow. The easy on and easy off feature allows you to use it without any hustle. For maximum durability, apply it and allow it to sit for 20 minutes. After that, polish with the polisher or your bare hand.
This product comes in a single quantity of 16 oz. Bottles. This is sufficient for your car. However, you might need more if you have multiple cars. This is where the company should think about increasing product flexibility.
Now, let us come down to the most talked about feature, the defect-repairing feature. You see, there are times when you encounter some uneven paint or defective portion on your car. This is heartbreaking, and the repair cost is not worth it.
However, thanks to Griot's Garage 11013 Liquid Wax 3-In-1, it will fix the small defects as if it was never there before! When you are polishing your car with this product, take a wiping cloth and apply the liquid wax on the defective area. It will repair that in no time!
Griot's Garage Pros
Easy on and off feature.

Deep glossy finish.

Comes in with a 3 in 1 feature

Long-Lasting.
Cons
Comes with a single size variant.

It would be best if you bought more for more cars.
Meguiars Carnauba Plus Premium Liquid Wax
The Gold Class deflects their true quality. This wax is certainly Carnauba based. Nevertheless, the formula is even more improved. This wax comes with a bit more. The biggest problem of a typical wax is the lack of durability.
That is why MEGUIAR'S G7016 Gold Class Carnauba Plus Premium Liquid Wax comes with a solution of Carnauba and protective polymer. What it does is that it sets on the paint well. The protective polymer adds extra protection to increase longevity.
This wax gives you a deep polished and wet look. Your car will have a reflecting shine in no time! The improved formula is working very well. No wonder people are this much satisfied with this product! On top of that, this is very affordable.
The bottle is 16 oz. There are no bigger variants. Therefore, you might need more than one if you have multiple cars. Not to mention the added cost. However, on the brighter side, it is very compacted in size. It also comes with a high-end soft polishing fabric. I like this product very much.
Meguiar's Pros
Easy to apply

Good shining with reflection. The mixture of protective polymer and Carnauba wax makes it

long-lasting.
Cons
Comes only in one variant.

Lack of versatility.
Final Thoughts
From my perspective, I wish to buy a product that can serve multiple purposes. However, it will have to justify the main plan as well. In this comparison, we can see that Griot's Garage has been providing both durability and versatility.
Before this hairline margin, I would prefer to buy the Griot's Garage 11013 Liquid Wax 3-In-1. Nevertheless, the latter one is equally good at its job. Do let me know which one you prefer!

Frequently Asked Questions (FAQ)
Is Meguiars car wax any good?
If you're looking for quality car wax, Meguiars is a great option. This brand has been around for years and is trusted by many car enthusiasts. Meguiars car waxes are easy to apply and provide a great shine. They also offer protection against the elements, helping to keep your car looking new for longer. So if you're looking for a car wax that can give your vehicle a great look and protection, Meguiars is definitely worth considering.
Griots wax is known for its long-lasting finish. Depending on the environment and how well you take care of your car, griots wax can last anywhere from a few weeks to a few months. To get the most out of your wax, be sure to follow the manufacturer's instructions and reapply as needed. With proper care, your car will look great and be protected from the elements for months to come!
No, griots speed shine does not have wax in it. This product is designed to give your car a quick and easy shine without any messy residue. It's perfect for those who want to get their car looking its best in no time!
Related Article List