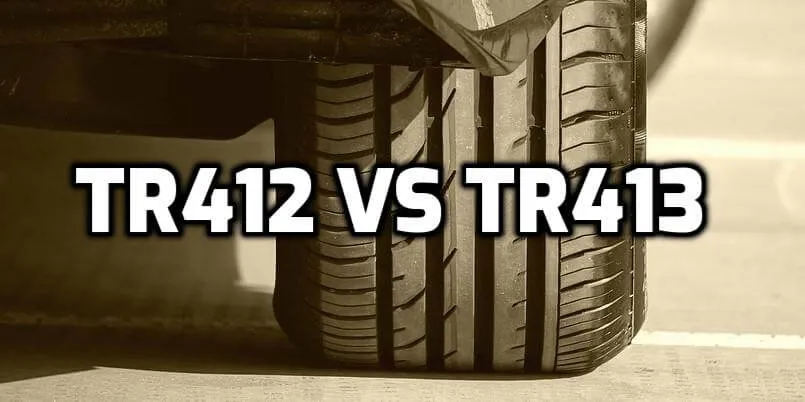 TR 412 and TR 413 are two separate models of valve stem belonging to the same series. They don't differ much in the materials they are made out of but the separate number signifies different sizes. Valve stem works behind the curtains and is unseen to us. Their purpose is to admit gas to a compartment, and then keep it sealed by the pressure in the chamber and prevent it from escaping.
TR 412 and TR 413 are almost identical except that the 412 is ¾" long unlike the 413 which is 1 ¼ long. Both of these valve stems will fit the hole of 453". But there is one issue that could arise and that is if you had limited space and needed the 412 for that reason. Whereas, TR 413 will work the same as TR 412.
Tr412 Vs Tr413 Table
There is not much room for options when it comes to comparing valve stems. But of course, we will be exploring every possibility here to present you with an outline that will help you buy the product best for you.
| | |
| --- | --- |
| | |
| | |
| Design for (11.5mm) diameter rim holes | Design for (11.5mm) diameter rim holes |
| Industry Valve Number: TR 412. | Industry Valve Number: TR 413. |
| Max Inflation Pressure (PSI): 65 PSI. | Max Inflation Pressure (PSI): 65 PSI. |
| Color Black color & Total Length is 33 mm. | Color Black color & Total Length is 47 mm. |
| Cold,heat and ozone resistant. | Cold,heat and ozone resistant. |
| | |
| | |
Rubber Snap-in Valve Stem
Rubber is one of the most effective materials when it comes to blocking and sealing off air pressure. As these valves are supposed to automatically shut off they tend to do so in the most air-tight way possible. The rubber cap in both the valve stems TR 412 and T4 413 proves them to be work efficient when it comes to locking in the air and separating the gas from escaping into other compartments.
Weather Resistant
No matter the weather conditions. You name it, heat, cold or snowy winter days, these valves are very neutral to all sorts of exterior factors. Neither TR 412 nor TR 413 is prone to react with the changing temperature that will make them shrink or expand. With all-season coverage, they sustain their original structure.
High Temperature
Vehicles are supposed to get an increment in the temperature due to its nature. Power converts and energy only changes from one form to another. The combustion of the fuel transforms as heat along with all the parts of your ride. But thanks to the heat-resistant valve core. Both TR 412 and TR 413 have non-reactant valve cores that prevent the gas compartment from leaking.
Durable Material
The rubber material is durable and allows the rider to increase speed up to 200 km/h. In combination with large wheels from about 16 inches causes high centrifugal forces of over 9 kg on the tire yet the durability in both the valve stems prevent them from untimely expiration.
Prevents Premature Deterioration And Damage
Using high-quality materials such as EPMD, TR 412 and TR 413 are more resistant to heat, cold, ozone and other influences such as road salt, wear off, speed, etc. Moreover, accurate registration and tight fit are guaranteed.
Extra Pieces
Comes with extra pieces from 10 to 37! So, one doesn't have to worry about purchasing the same valve stem again and again. One purchase and it will go a long way.
Easy to install
The user is supposed to replace the valve every time the tire is being replaced. But the installation is a cakewalk it is super easy to fit in the valve without much of a concern. 412s are a bit smaller than 413s but if fitted they both deliver the exact sort of performance
.The only difference worth mentioning when it comes to discussing TR 412 and TR 413 is that they have their own different size number. Where 412 is 33mm, the 413s are 47mm. Consider fitting them according to the size you own in your vehicle.
How To Store The Valves?
Store the valves properly, cool, protected from sunlight and not in the same room with electrical equipment or chemicals.
How To Remove The Old Valves?
Pull off the old tire valve with a suitable cutting tool. Be careful about not damaging the rim.
Remove the outer section by pulling with outward force.
How To Install The New Valve?
After removing the old tire, check whether the valve hole fits the tire or not.
Use long-life lubrication or similar paste before mounting the tire valve.
Ensure that you insert with the axial direction to the rim hole and that it isn't tilted.
Make sure the valve is correctly seated inside the rim. If not then it may be necessary to achieve a correct valve seat by turning.
Our Observation
The main difference between TR412 and TR413 The TR412 is 3/4″ long and the TR413 is 1 ¼" long. They both fit a valve stem hole of .453″. If you have limited space, then you might want to use the TR412, but other than that. The TR412 and TR413 are almost the same.
Closure
There is no questioning about the work efficiency of TR 412 and TR 413 valve stems. But first, you have to select a variation for which the corresponding technical data should be displayed. Thus you will be able to secure the right valve stem size according to your particular vehicle.
Frequently Asked Questions (FAQ)
The TR412 valve stem is 3/4 inches in diameter.
No, all tire valve stems are not the same. There are different types of valve stems for different applications. Some common types of valve stems include:
– Schrader valves: Most common type of valve stem; used on cars, trucks, and bikes. Named after August Schrader, who invented them in 1891.
– Presta valves: Used mostly on road bikes and high-performance tires. More difficult to use than Schrader valves, but they hold air pressure better.
– Dunlop valves: Used on some European bicycles. Similar to Presta valves in performance, but slightly easier to use.
So, when you're shopping for new tires or tubes, be sure to get the right type of valve stem to match!
Valve stems should be replaced every few years, or as needed. If your valve stems are leaking, damaged, or otherwise not functioning properly, they should be replaced as soon as possible.
What is the standard valve stem size?
The standard valve stem size for passenger vehicles is 12.5 mm (0.493 inches). This is the most common size for tires on cars, SUVs, and light trucks. Some larger vehicles, such as commercial trucks and buses, may have tires with slightly larger valve stems.
Read Next