Bilstein 5100 Vs Eibach Pro Truck Shocks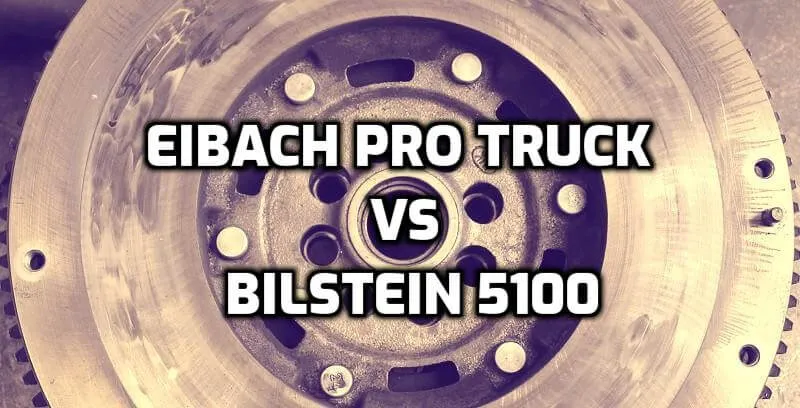 The Eibach Pro Truck is a great choice for those who want to make their truck look better with little fuss. It's also perfect for off-road enthusiasts who want to improve performance and safety. The Bilstein 5100 is built with quality in mind, which makes it a good option for those looking for something more durable than the Eibach Pro Truck. If you are interested in learning more about this comparison, read on!
Eibach Vs Bilstein 5100 Table
| | |
| --- | --- |
| | |
| | |
| Monotube with coil over function  | Monotube, gas filled shocks |
| | |
| | Multiple available option for height adjustment |
| Handles extreme force even in the off roads  | Balanced handling with very little friction |
| Non-replaceable adjustment springs  | |
| | |
| Covered By a Million-Mile Warranty | Limited lifetime warranty |
| Custom tuned shocks and springs | |
| | Vulcanized rubber bushing |
| Abrasion and corrosion resistant coating | Block resistant design for sag free, consistent ride height |
| | |
Why Compare
Pro truck and 5100 are made by two of the oldest company making after-market car parts. Bilstein has been in the market for over 60 years now, and they are quite synonymous with this product. Eibach, on the other hand, is the oldest suspension manufacturer in the industry, and recently they entered into shock absorber production. In terms of specification and benefits provided, both these dampers are ranked highly and appreciated by technicians.
But while buying, consumers have to deal with the sweet dilemma of choosing between the two. To choose between them, you need full disclosure about their specs-built quality and functionality. And trust me, to get them in one place is near impossible. So, we've decided to compare them and construct a complete article containing all the information necessary to make a strong purchase decision.
Types & Function
Shocks come in a lot of different variants, and each has its own separate quality. Shocks today are very efficient, and thanks to modern techs, they are way more functional.
Monotube, twin tube, tri tube, and telescopic are the most common types of shocks available today. Of these, the monotube is seen most. Monotube means the shock consisting single tube. It operates very smoothly as the piston inside is a free-flowing one.
Bilstein, as we all know, uses pressurized nitrogen gas inside. This opens the gate for functional superiority. Bilstein is a veteran of the industry and has a good consumer base for this product. This series here is a sporty one and goes any distance. It functions very efficiently even when you are driving off-road.
Another one which we have is the shocks made by Eibach. This company has vast popularity in suspension makes. Recently they decided to have a go at the shocks. The innovative decision to use coil over technique inside mono tube illustrates that they are here to stay, and so are their products. This damper can add height up to 2.5'', which guarantees the sporty look that comes with it. It's a heavyweight shock for heavy-duty performance.
Built Material
Company image plays a big role in determining built quality. When the company is well established like these two, the expectation is greater, which forces them to provide better materials than usual. Eibach is an old company with lots of positives to its name.
Their shocks might be relatively new in the market, but the quality is there. The liquid steel finish is always attractive for both passenger cars and sports ones. To avoid getting rust or corrosion, the company coats it with zinc. This shock weighs more than any other shocks that's because the shocks are destined to carry the load, and the dyno test, sturdy valving, and the big piston is a thoughtful addition.
Bilstein is no different. Anyone into cars will always recognize the brilliance of Bilstein shocks. 5100 is no different as they are one of the top products from the company. As the shock is monotube, it has pressurized nitrogen gas inside, and the sealing on top of the tube is one that won't wear out. Dampers are equipped with a big 46mm piston to carry weights easily. Zinc coating, and digressive valving with neoprene rubber bushing, are Bilstein specialties, and their presence in every Bilstein shock.
Lifespan
Reading built quality, you get an idea of their strength, and it's needless to say that they last for a long period of time. That's why Manufacturing companies don't fear offering long warranties.
Both these shocks are backed up by a limited lifetime warranty. Bilstein runs for 60,000miles, where the industry average is 50,000 miles. Eibach shocks have an astoundingly longer life. They run at least a million miles before they start wearing out.
Suitable Vehicle
These shocks are perfect if you are looking to get a lifted look for your car or jeep. As both these shocks add extra height to your vehicle, you can think of putting bigger tires or stances. You can go long roads with these shocks, and if you go off terrain, modern additives inside will quickly adjust to the road and help you drive.
Both these shocks are good to go even if you go extreme off-road. Having said this, Trucks, SUVs, Jeeps, and Cars are the most widely used vehicle for this. Shocks match a wide variety of vehicles nowadays, so you should determine what kind of application you want from your shocks and choose accordingly.
Price
Both these companies are well established, so they are easily trusted. They are priced a bit higher than the mid-range shocks. Shocks are not something you buy according to the price. The first step is to check if they fit the intended vehicle. Then comes the price segment.
Pro truck and 5100 both are performance-oriented dampers, and buyers don't mind paying the extra few bucks for these. Of these two, the Eibach one is priced a bit higher than the Bilstein, but that's only just. We haven't noticed any purchase behavior based on the price, at least for these shocks.
Our Observation
Bilstein and Eibach are two of the most popular brands when it comes to shocks. They offer great quality products that are backed by a limited lifetime warranty. Both companies offer a great product that is perfect for lifted trucks, SUVs, and Jeeps. The only difference between the two is that Eibach is priced slightly higher than Bilstein. However, this difference is not significant enough to affect purchase behavior.
Frequently Asked Questions (FAQ)
Bilstein 5100 shocks are a great way to lift your truck. They offer a small lift, usually around 1-2 inches, which is perfect for most trucks. They also offer great ride quality, making them a great choice for those who want a smooth ride.
Eibach shocks are made in Germany. The company has been manufacturing shocks for over 50 years, and their products are used by some of the world's top race teams. Eibach also makes suspension components and springs, so you can be sure that their shocks are of the highest quality. If you're looking for the best performance and durability, go with Eibach. You won't be disappointed.
Eibach shocks are well-known in the automotive world for being high-quality and durable. They offer great performance and ride comfort, making them a popular choice among car enthusiasts. While they may cost more than some other brands, their quality and performance is worth the investment. Eibach shocks are backed by a limited lifetime warranty, so you can be confident in their performance for years to come.
Yes, Eibach shocks are progressive. This means that they get stiffer as they compress, which provides a more comfortable ride and better handling. Additionally, progressive shocks help to absorb bigger bumps and protect your suspension from damage.
Summary
When going gets tough, these two dampers here will carry your weight and ensure a smooth ride, and, at the same time, will protect your vehicle. If you are into off-roading, then don't look any further. Both these shocks offer great value for money and will last you a long time.
Bilstein 5100 is a great product that offers a smooth ride and easy installation, while the Eibach Pro-Truck is perfect for those who want a bit more height and a longer lifespan.
Related Article