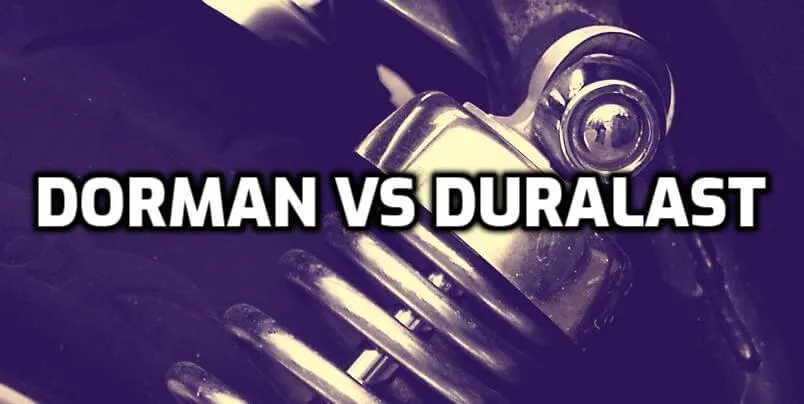 When it comes to picking a ball joint, you have two options. You can go with Dorman or Duralast. But which one is the better pick? Both are excellent choices, but some differences between them should be considered before making your decision. Check out this blog post for more details!
Dorman Vs Duralast
Table
Are you looking for durable ball joints for your automobile? Then you are at the right place. Today in this article, I will show you the similarities and similarities between two branded ball joints. In this Table, their pros and cons are also discussed along with their exclusive features.
| | |
| --- | --- |
| | |
| | |
| Lower Position Ball Joint | Lower Position Ball Joint |
| Comes With 1 Year Warranty | Comes With 1 Year Warranty |
| Greaseable Integrated Bearing | Advanced Anti Rust Coating |
| Weathershield External Coating To Resist Corrosion | Industrial Strength Induction Hardening |
| Don't have any Adjustable Setting | Don't have any Adjustable Setting |
| Prevents Rust And Corrosion For Being Coated By Powder And Paint | Prevents Rust And Corrosion For Being Coated By Silver And Paint |
| Also Have Rubber Dust Boot Material | Also Have Rubber Dust Boot Material |
| Precision Engineered To Match Original Components | Pre Greased Joint With Premium Synthetic Grease |
| Preferable For The Vehicle 1998 Crown Victoria, 2008 Chevrolet Silverado Lt, 1995 Cobra, 2001 Ford Mustang, 2002 Mustang, 2001 Cobra, 2002 Crown Vic, 1997 Ford F 150 | Preferable For Volvo S60 From 2007 To 2009, Volvo Xc90 From 2003 To 2014, Volvo V70 2007 |
| | |
Why Compare
If you have a bad ball joint in your automobile, you will definitely notice some familiar symptoms. You will notice clunking noise from the front suspension of your vehicle. Again, there will be excessive vibration in the front part of the vehicle. The steering will wander in the left or right direction. When the ball joints break completely, the vehicle will move in any direction.
It will result in zero control over the vehicle steering leading to a terrible road accident. So it is a must to change the damaged ball and socket interconnection from your vehicle. Hopefully, Duralast and Dorman will be very good companions on your ride. So, go through to get a complete package of information about these two ball joints.
Main Features of Dorman
Original Performance
The performance of a vehicle part depends on its durability indirectly. Installation of the right attachment in your vehicle enhances the original performance of your automobile. Dorman's ball and socket joints are highly engineered with advanced technology to provide you better and original performance in all the terrain you drive your vehicle. In this way, Dorman ensures a better ride quality for you.
Precise Handling
You know that the steering of a vehicle immensely depends on the ball joints and wheels. The knuckle joint will direct the wheel in the desired direction you want to drive. The faulty parts will make an excess play on the steering wheel, allowing you to handle your vehicle easily on both rough and smooth terrain.
A durable ball hinge will allow you to control your vehicle easily and smoothly. As a result, Dorman will provide you precise handling of your vehicle.
High-quality Product
Dorman is a top-notch quality brand in the automobile industry. Apart from the ball joints, their wheel bearings, shock absorbers, vehicle struts, and other hub assemblies are getting popular day by day. Because of the premium quality of their product and the advanced technology used in it, you get quality performance using this part of Dorman.
Shaking Control 
Vehicle shaking is also a mentionable issue that is especially boring and irritating to the drivers who usually drive their vehicles off-road. A damaged ball joint results in the loose connection of the vehicle wheel. And for this reason, the vehicle shakes excessively on rough surfaces. Being a durable product, the hinge joint of Dorman greatly controls the vehicle shaking both on-road and off-road.
Key features of Duralast
For getting a high-speed rating in any terrain you drive your vehicle, you need to pay extra attention to the selection of the ball and socket joint of your vehicle. In this case, Duralast is a mentionable name to provide you maximum speed rating in every terrain.
Durable Performance
Most of the attachments don't work properly off-road because of the unparalleled and non-smooth surface. As a result, you will not get durable performance there. But Duralast will provide you with a durable performance all day long.
Direct Fit
Duralast is a direct fit for the specific vehicles it fits. It is engineered in such a way to get fit with those vehicles directly.
Vibration control
Duralast ball joint apparatus control the vibration created in your automobile significantly in the rough terrain.
Final Verdict
As ball joints are necessary for every automobile, you should be cautious about selecting the right one for your vehicle. Sometimes people buy the wrong hinge joints for their vehicles which are not so durable and capable of providing efficient performance.
It will waste their money, time, labor and increases the possibility of losing control over your vehicle. Now, this is your call which one you will prefer for your automobile. And I hope that this article will help you with the preferable one.
Frequently Asked Questions (FAQ)
Cheap ball joints usually last around 50,000 miles. However, it is not uncommon for them to last much longer. If you take good care of your vehicle and regularly maintain it, your ball joints can last up to 100,000 miles or more. Of course, this all depends on the quality of the ball joint and how well it is made. There are many factors that can affect the lifespan of a ball joint, so it is always best to consult with a professional before making a purchase.
Dorman is a trusted name in automotive parts and accessories, and its control arms are no exception. Made from high-quality materials, Dorman's control arms are designed to provide years of trouble-free service. Whether you're looking for a replacement for a worn-out original or an upgrade for better performance, Dorman's control arms are a great choice.
Typically, the labor to replace a ball joint costs between $100 and $200. However, this cost can vary depending on the make and model of your vehicle, as well as the specific location of the ball joint. Be sure to ask your mechanic for an estimate before having any work done.
Related Article