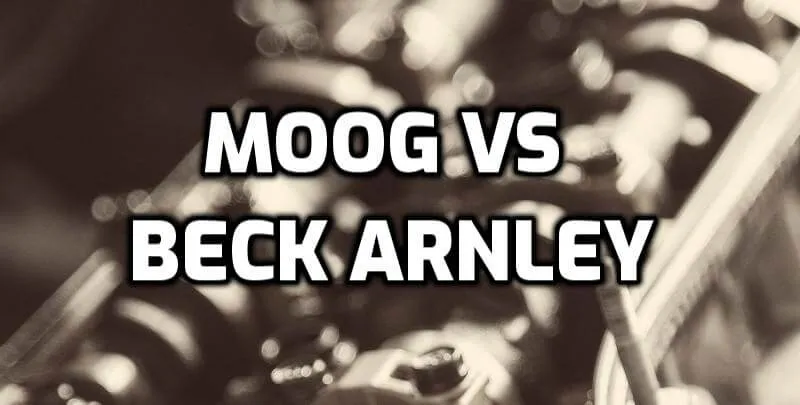 Beck Arnley and Moog ball joints are two very different products. These products are made to do the same job, but they come with their own set of features, strengths, and weaknesses. It can be tough to know which one is right for your car or truck. We'll discuss all you need to know about Beck Arnley and Moog Ball Joints in this blog post!
Beck Arnley Vs Moog
Table
when it comes to the question of which one is better, there isn't a clear answer. It depends on what you're looking for in terms of durability, cost-effectiveness, or overall quality.
| | |
| --- | --- |
| | |
| | |
| | |
| Manufactured With High Quality Materials | Have Patented Pressed In Cover Plate Seals |
| Coated For Corrosion Protection | Greaseable Socket Reduces Corrosion And Wear |
| Easy Installation (Necessary Hardware Supplied) | Easy To Install (Perfect Fit Right Out Of The Box) |
| It Matches Original Design Requirements | Ball Studs Are Heat Treated To Match Or Exceed OE Requirements |
| Comes With Limited Lifetime Warranty | Limited Lifetime Warranty Against Manufacturer Defects |
| OE Form, Fit And Function | Made With A Hardened Steel Stud Ball |
| Suitable Parts For Cars, Light Trucks, And SUVs (Check Your Car Manual) | Available For Foreign And Domestic Nameplates (Check Your Car Manual) |
| | |
Why Compare?
Undoubtedly ball joints play a vital role in the vehicle. Yet ball joints are one of the complicated mechanisms that allow your front wheels to travel up and down independently and turn left or right simultaneously. Maximizing vehicle handling and tire wear increases contact between the tire and road throughout the suspension's motion. Ball joints, which connect numerous links and allow them to move, are a crucial front suspension component.
Consequently, ball joints provide you with a smooth ride and accurate vehicle control. These are the main reason why every vehicle needs ball joints. However, Beck Arnley and Moog ball joints also offer you almost the same advantages. Also, they do have some similarities as well as dissimilarities which makes them more comparable.
Highlighted Features
Ball joints are a very small part of a car; however, it's one of the essential parts too. That's why you don't want to compromise its quality when it comes to choosing a ball joint for you.
For that, people often ask what would be the best ball joint for my car? However, among so many other options two most suitable options are Beck Arnley and Moog ball joint. But that's not all about these two. Feel interested? So walk with me to find out more about them.
Materials
When it comes to a ball joint's longevity, it is important that the materials used in its manufacturing be of high quality. For both the exterior and interior of a joint, it's the same. These parts are usually composed of steel. The metal must be of excellent quality. Else the joint would only last a few thousand kilometers until it wears out.
Urethane is used for the dust boot, as well as other interior fittings. For example, if they are not of excellent quality, they may wear out quickly and cause premature failure of the ball joints. Both of these ball joints consist of steel which made them durable products.
Warranty
The Moog ball joint has three years of warranty. On the other hand, Beck Arnley ball joint also offers you a refund or replacement policy. So whenever you want to buy any of these products, first check the warranty. Cause if something goes wrong with the goods, you may complain and demand an exchange or free repair.
Resistant To Water And Temperature
There are several levels of protection for ball joints against moisture and heat damage. First, you should get water-resistant ball joints if you drive a lot in rainy circumstances. Corrosion increases when exposed to water, resulting in long-term corrosion. As well as being able to withstand extreme temperatures, the ball joint should also be durable.
Heat damage is one of the leading causes of dust boot wear and ball joint wear. To consider that the manufacturer designed the Moog ball joint to be resistant to water and heat to elongate its durability. Also Beck Arnley ball joint has an extra coat to resist water and heat.
Pros & Cons of Beck Arnley
Pros
Cons
Shipping is not available
Pros & Cons of Moog Ball
Pros 
Solid construction enhances durability while also enhancing functionality

A lubricated socket design

It has an innovative bearing design using powdered metal
Cons
It comes without a set of snap rings
What did Do Ball Joints mean? In What Capacity Do The Ball Joints Function?
Ball joints let you drive and manage your car across uneven terrain since they immediately impact the accuracy of your steering. For example, there are two parts to a ball joint – the ball and the socket.
Socket and ball provide a connection while giving the ball freedom of movement. Ball and socket joints, such as those in the hip and shoulder, are a good example. If you didn't have these joints, it could limit the driving motion of your vehicle. The same is true for your vehicle's suspension.
Your car's control arms are connected to the steering knuckles through ball joints, which act as a pivot point for your vehicle. As a result, you may steer left or right with the vertical movement of your suspension.
The type of suspension determines it in your car where your vehicle's ball joints will be located. However, they are more often than not an integral element of the car's front suspension. Although some rear-drive automobiles feature ball joints in the rear suspension, this is not the case for all vehicles.
This feature allows cars to move safely across a broad range of uneven surfaces, including pebbles, bumps, and even potholes. Vertical movement keeps the wheels in touch with the road surface, even while the road's surface is changing. In addition, ball joints allow vehicles to tow larger weights.
If My Ball Joints Wear Out, How Often Need I Repair Them?
It's better to change your ball joints between 70,000 and 150,000 kilometers. How often you need to repair your suspension's ball joints, on the other hand, will depend on the road conditions and the overall condition of your car. So check Ball joint wear as soon as you detect any changes in your steering or strange noises coming from your suspension.
If My Ball Joints Are Worn, How Can I Tell If They Are?
If you find the following signs meaning you have to replace ball joints:
When it meets a bump on the road, the car veers to the side.

Unusual tire wear

Creaking noises that are out of the ordinary

A trembling in the wheel

A clunking sound comes from the front tires
Driving With Faulty Ball Joints Is It Dangerous?
When it comes to steering and suspension, ball joints are essential for a vehicle's longevity. Driving with a damaged ball joint, on the other hand, poses a severe risk to your health. The failure of the ball joint can be deadly, and if the joint has pulled out while driving, it can cause significant injury or death.
Summary
Till now hope you got your answer to why these ball joints are so famous. Regardless of their benefits, it's up to you which you want to buy for your vehicle. However, bear in mind the discussed information.
Frequently Asked Questions (FAQ)
Beck Arnley parts are made in a variety of locations, depending on the specific part. For example, engine mounts are made in Taiwan, while brake pads and shoes are manufactured in China. Ultimately, wherever production costs are lowest for a particular part is where it will be made.
Yes, Moog ball joints are made in China. However, Moog is a global company with manufacturing facilities all over the world, so not all of its products are made in China. You can find out where a particular product is made by checking the label or looking up the product online.
MOOG parts are also designed to meet or exceed OE (original equipment) specifications, so you can be sure they will fit and perform just like the parts on your vehicle when it was first manufactured. And because MOOG parts are made using the latest technology and high-quality materials, you can count on them to last longer and provide superior performance compared to other aftermarket parts.
Moog ball joints are a great choice for many applications, but some people wonder if they're oversized. While there is no definitive answer to this question, we can say that Moog ball joints are designed to be durable and long-lasting. So, if you're looking for a ball joint that will stand up to whatever you throw at it, Moog is a good option.
Related Article