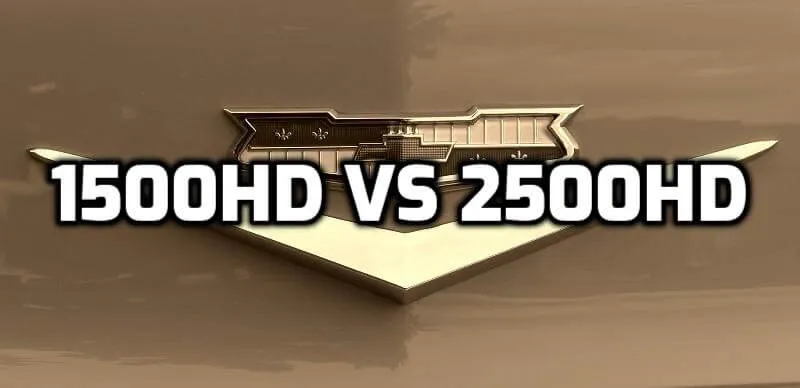 When it comes to pick up trucks the debate is open for 1500HD and 2500HD. Cars that have a bed behind which will enable the passenger to carry loads is a huge perk of having an automobile. Pickup trucks are smaller in size yet compatible for its legitimacy. They are light weight trucks that give off both car-like feel and come with the advantage of carrying loads in the back.
But as far as the concern goes bearing goods along with a safe ride itself will surely need to match a lot of regulations. HD in both these models stands for "Heavy Duty". Justifying the name and title these rides have been given, they are ought to provide service like a heavy duty truck apart from the regular ones.
1500hd vs 2500hd Comparison
2500 HD is naturally more heavier than the 1500 HD. They both have different gear ratios and separate engine availability. 2500 HD being the heavier one is ideal for towing. With 6.0 as the base engine it is powerful enough to maintain heavier payload. However, 1500 is not exactly light weight compared with the 2500HD.
| | |
| --- | --- |
| | |
| | |
| Max avail. Trailering 13,300 lbs | Max avail trailering 36,000 lbs |
| Max avail. Payload 2,280 lbs | Max avail payload 7,442 lbs |
| Max avail. Cargo 89.1 CU. FT | Max cargo volume 83.5 CU. FT |
| | |
| 4-spd auto w/OD Transmission. | 5/6- spd w/OD Transmission. |
| | |
| | |
| | |
Main Features
Both 1500 HD and 2500 HD have the same basic warranty of 3 years or 36,000 miles. 2500 HD is bigger and better compared with 1500 HD. It can clearly sustain more weight and heavy load than the 1500 HD. Even though 1500 HDs are no less than a ton, yet they have nothing much to give off out of the ordinary. Whereas, the 2500 HD is ¾ of a regular truck, the structure is beefier enough to bear heavy duty.
6- Speed Shift Able Automatic
2500 HD has an alternative option of changing the engine gear from 5 to 6. On the other hand, 1500 HD is only limited within 4-spd auto w/OD transmission. The standard engine Vortec 6.0L V8. It has the capacity of towing 14,800 pounds. The 1500 HDs are supposed to have such engines. Nevertheless, the other engine option is Duramax 6.67 Turbo-Diesel V8.  It produces 910 lb-ft of torque moreover, horsepower up to 445 which we witness in 2500 HDs.
Comes Along With A Rear View Camera
The rear view camera of 2500 HD is easy to work with. It sets a benchmark for safety ensuring backup sensors, dash cameras and backup cameras. The touch screen will easily give you a view of the area including curbs, pavements and other markings.
Nevertheless, the customizable wireless rear view of 1500 HD will do the same proving itself a worthy rival of 2500 HD.
Adjustable Steering Wheel
One of the biggest flex of 2500 HD is that it has a able steering wheel. It can be adjusted to your convenience. The modern day leather coating and carbon fiber is inclined to last long and accompany you in the long run.
Even though the steering wheel of 1500 HD might not be as flexible as the 2500 HDs but it provides the latest trim-level features that is just adequate.
Dual Zone Front Climate Control
The climate control process inside both these heavy trucks are pretty impressive. Almost to the edge of artificial intelligence it is quick to adjust the inner temperature. The inside of a car is very exposed to getting warmer with the driving hours but with 1500 HD and 2500 HD's dual manual and touch screen's effective conduction you don't have to worry about the increasing heat.
Limitations
1500 HD is not less than half of a ton yet it doesn't do justice with its expected performance. 2500 HD being slightly more overweight does way better whatsoever. Even though the 2500 HDs can carry up to an astounding weight 15,400 pounds, however, the 1500 HD can carry only up to 10,200 lbs.
Of course everything is bound to some level of imperfection. The pick up trucks 1500 HD and 2500 HD are good no doubt but they surely can not work like an actual truck. They are just clones of the originals, designed to mimic the features of a heavy duty truck.
What's The Difference?
The main difference between 1500hd and 2500hd is that the 2500hd is a double-cab and the 1500hd is a regular cab. The cost of 1500hd with a regular cab, double-cab, and the crew cab is almost comparable. The 1500hd regular cab is available with 2+3 seating which is quite good for the customers who wish to have a car that can accommodate their family members. The 2500hd double-cab and the crew cab are only available with a 2+3 seating arrangement. The 2500hd double-cab has a towing capacity of 8500 pounds while the 1500hd regular cab can tow almost 7000 pounds. This is the only difference in terms of towing capacity.
The interior equipment of the 1500hd and 2500hd is almost similar, except for a few changes. The 1500hd is available with leather seats which are very comfortable and luxurious for the customer. The 2500hd does not have leather upholstery, but it does have an option of cloth upholstery. The leather upholstery in 1500hd is perforated which makes the customers even more comfortable. Since it is a Silverado there are also some added features like OnStar system, XM Radio, USB port, and other options which make the car an even more luxurious one.
What Does Hd Mean In 1500 Hd And 2500 Hd?
Heavy Duty is what HD stands for in both the names. Now that we know, we are looking for truck-like features, the quest becomes a bit easier whether we require the super-duty model or not.
Do 1500 And 2500 Have The Same Frame?
The answer right off the bat is, yes, they have the same frame. Even though the frame is identical they have separate cab or bed construction which ultimately differ in lifting weight. It is good to remember, the higher the number the taller the bed.
Summary
2500 HD will be probably more at home while dealing with heavy duty load. It is more suited for the towing due to it's base engine compared with 1500 HD. The more limited axle rating will work in favor in case of containing heavier load.
Frequently Asked Questions (FAQ)
The main difference between the 2500HD and 1500HD is that the 2500HD has a higher towing capacity. The 2500HD can tow up to 9,700 pounds, while the 1500HD can only tow 5,900 pounds. In addition, the 2500HD has a larger cargo area than the 1500HD. Finally, the 2500HD comes with a standard 6.0-liter V8 engine, while the 1500HD comes with a 4.3-liter V6 engine.
Silverado 1500HD is a full-size heavy-duty pickup truck from Chevrolet. It's available in 2WD and 4WD configurations, and can be had with either a gas or diesel engine. With its strong towing and hauling capabilities, the Silverado 1500HD is a great choice for those who need a tough and capable truck.
Related Post