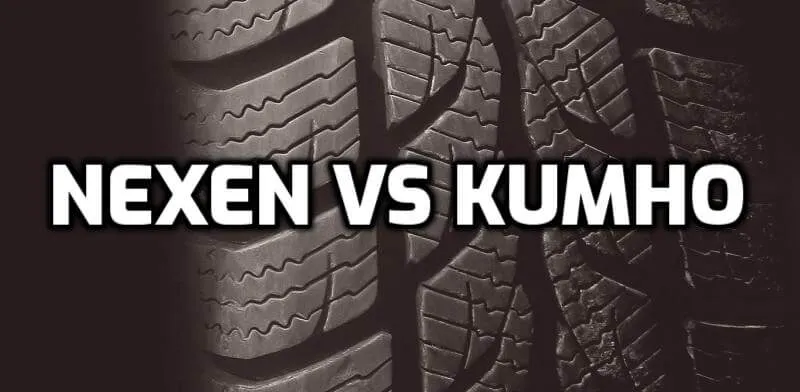 Choosing the right tire for your vehicle can be a difficult task, especially if you're not sure what to look for. There are many factors that go into deciding which tire is best suited for your car and driving habits. In this article we will compare two popular choices: Nexen tires and Kumho tires. We will review their features, benefits, specifications and more so you can make an informed decision about which one is better suited to meet your needs!
Nexen Vs Kumho Table
When it comes to buying tires, you will likely find yourself facing the dilemma of choosing between two major brands: Nexen and Kumho. This Table is going to explore which one you should choose based on your needs!
| | |
| --- | --- |
| | |
| | |
| | |
| | |
| | |
| | |
| | |
| | |
| 4 Straight Wide Grooves for Maximize Wet Traction And Anti-hydroplaning Performance | Symmetric Tread Pattern Reduces Vibration And Noise |
| Straight Center Rib Block For Directional Driving Stability At High Speeds. | Wide Shoulder Blocks For Better Steering Response |
| 60,000 Miles Tread Wear Warranty And 6 Years Limited Lifetime Warranty | 65,000 Miles Tread Wear Warranty And 6 Years Limited Lifetime Warranty |
| | |
| | |
Why compare?
If you've been around the tire industry, you've heard the names of these two tire brands we are discussing. Both these brands are too big a name to ignore. Being so vastly famous, the dilemma is within the customers to buy the appropriate one from so many quality options.
Buying tires involves multiple considerations. You've checked their type, built quality, millage provided and many other subjective preferences. Don't worry! We're going to discuss this in our highlighted point section.
But the main benefit you get comparing two brands is the final decision. You've done your research and sorted it down to 2. Now you need an expert opinion to back your choice. We'll do it in this article. We've taken two products from both Nexen and Kumho. We've started the comparison with a table.
Tire Type
Both these tires are all-season tires that knows their responsibilities quite well. The tires are not high-end tires with many futuristic features, but these tires are perfect for the basics. Their built quality will illustrate why CP671 is designed to provide you with high-end performance and a quiet, comfortable ride. There are four deep straight grooves on the exterior to channel any dirt or water. The grooves are angled so that they eliminate sound more. Rib blocks make sure the vehicle is steady. The inner side is built with nylon with a polyester coating, ensuring strength and durability.
The second tire is no different. It can do everything of the first tire but only better. The symmetrical tread design and wide shoulder blocks make the ride comfortable with plenty of traction to offer. It has the same four deep grooves on the exterior, complementing with a large sidewall. These tires may not be best in heavy snow, but they do the rest relatively smoothly.
Technical Details
Technical details like rating, section and tread give you an idea of the tire's suitability in terms of your vehicle and the performance they are likely to produce. Let's start with the first one, This CP671 is an ideal tire for cross over mid-size vehicles with a section width of 215mm and a rim diameter of 17 inches. The aspect ratio of the tire is 55 and has a load index of 94. It has a UTQG of 500AA. The rating suggests that they are not heavyweight pulling tires, but their performance is still untouchable. V speed rating is provided, and the load capacity of the tires are 1477 pounds.
Kumho produced a solid line to capture the market of mid-sized vehicles like minivans, sedans and more. And the idea seems to work very nicely, seeing the technicality that the tires come with. The section width and rim diameter are 215mm and 17inch respectively. The load index is 94 and the load-carrying capacity is 1477 pounds, the same as the compared one. With an H speed rating, this tire has a UTQG of 400AA. The aspect ratio of the tire is 55.
Lifespan
How much should your tires last? There's no definite answer to it. Most tires are backed up by six years warranty, so you should regularly check once the tires reach the end of the warranty period. After ten years, if your tire is still functioning, you should swap them for a new one, no matter how good condition they are in.
Nexen built CP671 has a 60,000 miles tread life warranty along with six years limited lifetime warranty. And The solus ta31 by Kumho has a 65,000 miles tread life warranty and a six-year limited lifetime warranty.
Suitable For
There's a huge difference between randomly choosing a tire and choosing the right tire for your vehicle. To buy a suitable tire, first, you need to determine the tire size required in your vehicle. You can get that in the instruction book or ask your mechanic. After doing so, choose what type of tire that you want. If you are a city driver and driving constantly, you are better off with an all-season tire, but if you go off-roading, tow heavy load, then the all-terrain is the better option for you.
CP671 is ideal for mid-sized cars. You are likely to receive the best performance on this type of car. Solus ta31 can accommodate mid-sized cars to luxury sedans without much of a hassle.
Price
Tires are a costly investment. And the price varies according to the tire brands, sizes. Some modern additives may be a reason for the tire price to go up. Customers try to buy all their tires simultaneously because this way, all tires wear out simultaneously and you don't have to worry about the tires for a long time. Tire prices start from as low as $50 and go up to $1000.
These two tires that we are talking about are not expensive at all. They are very efficient and budget-friendly. Tires are installed to help you drive and protect you at the same time. These tires will give you the same service premium tires with way less money.
Summary
It's natural to be confused while selecting a tire to buy. The decision should always be driven by facts and talking about facts. These two tires proved them worthy.
Frequently Asked Questions (FAQ)
Nexen tires are a great option if you're looking for quality and value. They offer a wide range of products that are designed to meet the needs of all types of drivers. Whether you're looking for tires for your car, truck, or SUV, Nexen has a tire that will fit your vehicle perfectly. And, because they're made with high-quality materials, you can rest assured that your Nexen tires will last for many miles to come. So, if you're in the market for new tires, be sure to check out Nexen – you won't be disappointed!
Yes, Kumho is a good tire brand. They make quality tires that perform well in all types of driving conditions. They offer a wide variety of tires to choose from, so you can find the perfect set for your vehicle. Kumho also offers excellent customer service, so you can be sure you're getting the best possible product and experience.
Yes! They offer everything you need in a tire, and then some. If you're looking for a high-quality tire that will perform well and last long, Nexen is a great option to consider.
The Kumho Tire Company is a South Korean tire manufacturing company. It is the second largest tire manufacturer in South Korea after Hankook Tire, and the ninth largest in the world. Kumho means "bright lake" in Korean. The company started out as a joint venture between the South Korean government and Hyundai Precision & Industries in 1960. In 1976, Kumho became a wholly owned subsidiary of Hyundai Precision. Kumho Asiana Group acquired the company in 1999, and it has been part of that conglomerate ever since.
Related Article