LS3 vs LS7 Engine Cylinder Heads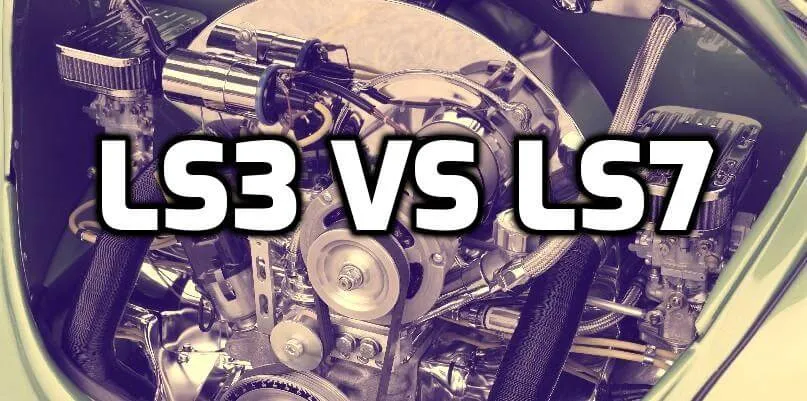 Cylinder heads are the crucial part of an engine. The design of it often decides the performance. That's why we suggest not to buy just heads for the sake of buying it. Instead, learn more before buying. In this article, we will be focusing on the very popular argument between LS3 VS LS7. Both are pretty popular engine heads. Let's try to figure out who outperforms whom.
Why Compare
Both these heads promise to give premium service quality in terms of performance. But many non-users find it difficult to choose the right one just from the mentioned specs. In order to provide the exact information to the first time buyers about these two, we have tried to shine some light on this comparison.
By the end of the article, you will know the exact differences between these two. Also, you can go for the right one based on your demands. To learn more at a glance, go through the comparison table below that is prepared by our experts.
LS3 vs LS7 Table
| | |
| --- | --- |
| | |
| | |
| | |
| Horsepower Rating 426-436 hp | |
| Torque Rating 420-428 ft./lbs. | Torque Rating 470-481 ft./lbs |
| Minimum Required Bore 4.00" | Minimum Required Bore 4.10" |
| Combustion Chamber Volume 68.7cc | Combustion Chamber Volume 70cc |
| Intake Valve Diameter 2.165" | Intake Valve Diameter 2.20" |
| Exhaust Valve Diameter 1.590" | Exhaust Valve Diameter 1.61" |
| Intake Runner Volume 257cc | Intake Runner Volume 270cc |
| Exhaust Port A Bit Narrower | Exhaust Port A Little Larger |
| | |
LS3 Short Review
This head features a rectangle intake port shape and the exhaust port shape is D-port. In order to serve various needs, LS3 is available in two intake runner sizes. They are 255cc and 260cc. Both of them feature a 13-degree valve angle. Furthermore, the deck surface will be thicker than the factory GM head castings. That is over 50% which is a great deal.
Compared to the factory GM castings, the aftermarket castings are supposed to give better piston to valve clearance. So, no clearance issues are supposed to be faced by the users. Both the 255cc and 260cc will allow bigger camshafts on the factory. You can accommodate them both to the GMPP LSx and RHS engine blocks. A standard 6 bolt configuration will be provided for both.
 If you don't have that block, no worries. They will not be a misfit for bolting onto a factory GM production. The diameter of the intake valve is 2.165 inch and the exhaust valve diameter is 1.590 inch. The combustion chamber volume is 68.7cc. Talking about the chamber size, they can be easily milled as per your desired specs. However, the standard provided chamber size is 68cc.
Both of the sizes feature hollow stem stainless steel intake valves. That reduces the valvetrain weight and enhances longevity for sure. Also, you will get some other benefits such as enhanced RPM range, overall power, etc. Among the two sized cylinder heads of the LS3 rectangular port, the 255cc is an ideal choice for the factory short-block patrons. On the contrary, the 260cc will exactly fit the larger cubic inch setups.
Even with the smaller size, you can reach up to 380 cfm of intake flow. What more do you want? The bolt style of this cylinder head is torque to yield and the bolt size is (10) M11 x 2 x 100, (5) M8 x 1.25 x 45. Also you can check our LS7 vs LS9 Comparison here.
LS7 Short Review
The LS7 cylinder head is literally the supreme grade among the LS-based heads. You can consider this as the best fit for your LS7/LSx engine. This is available in 265cc, 285cc, and 265cc small bore. For a street driven vehicle, the 265cc will provide 393 cfm and the 285 cc will provide 407 cfm. That is way better than the CNC ported factory LS7 heads.
Speaking about the bore size, the 265cc will need a minimum 4.10″ bore size. On the other hand the 285cc will require 4.125″. Do you know what is more amazing? You can get a 265cc small-bore configuration to accommodate it on an LS3. We recommend this small-bore LS7 head for those who want to install it on engines of at least 4.00″ stroke. Only then the intake runner size and the port shape will match.
Just like the LS3, this aftermarket casting will also be available in a 6 bolt configuration and a thicker deck surface. Besides, it will be a wise selection for a power adder application. Both for the 600+ rear wheel horsepower in a natural way or the 1500+ horsepower in a forced induction insertion, undoubtedly the LS7 cylinder heads will be your best pick.
Difference Between LS3 & LS7
Between these two PRC Rectangular Port cylinder heads, which one should you go for? Well, it is undeniable that there are a lot of similarities. Both will offer a 6 pretty standard bolt configuration. The hollow stem stainless steel intake reduces the overall valvetrain weight in both cases. But why do they differ then? They basically differ in the following specs.
The LS7 has slightly larger valves than the LS3. The valve diameter varies for these two engine heads. Having a 2.165″ intake valve diameter and a 1.590″ exhaust valve diameter, the LS3 is slightly shorter. The LS7 has a 2.20″ titanium intake and 1.61″ sodium-filled exhaust. Also, they differ in the combustion chamber volume. For the first one it is 68.7cc and the for the latter one it is 70cc.
For LS3, the rectangle intake port is slightly taller than it's port. This is a drawback on LS3's side. The performance will also vary for the chamber volume difference. But if you are careful enough to match the intake manifolds properly, they will both work great on your LSx engine. However, to be honest, the LS7 head will suit a larger displacement engine because of the greater intake runner volume. Though the price is fairly higher. If budget is an issue, the LS3 engine head is literally the best choice at half of the price of the LS7.
Final Words
As budget does matter in purchasing cylinder heads, you should spend your every penny considering the utility. Don't just rush for the cheaper one unless it fits your requirements.  From our practical experiences, we may assure that both these LS based heads will be good enough. From the perspective of the price range, LS3 is a better deal. But honestly, it cannot compare the power output of LS7. So what is your pick from this LS3 VS. LS7 disputation? Let us know as well by commenting below.
Frequently Asked Questions (FAQ)
An LS3 can make up to 430 HP. Some modifications can increase this number, but it is typically around 430 HP.
The LS7 is a reliable engine, with many drivers reporting few problems with it. It is important to keep up with the maintenance schedule for this engine, however, as neglecting to do so can lead to issues down the road. Overall, the LS7 is a great option for drivers who are looking for a reliable and durable engine.
It really depends on what you're looking for. If you want more power, the LS7 is the way to go. If you're looking for better fuel economy, then the LS3 is a better choice. Ultimately, it's up to you to decide which engine is right for your needs.