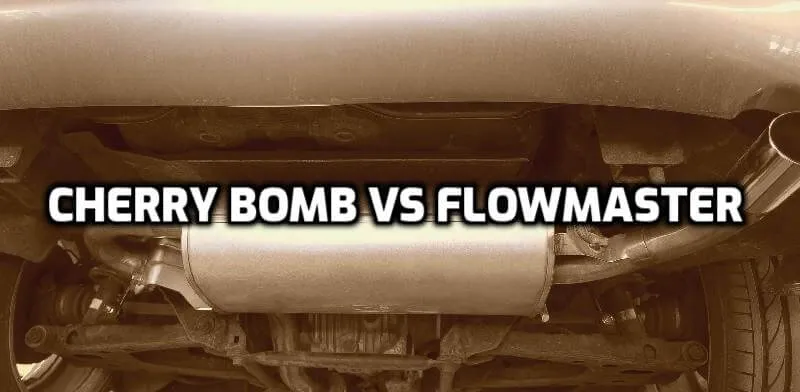 The engine of a vehicle is the most important part of a vehicle. When the engine gets started, the vehicle starts running. The engine of a vehicle makes a lot of noise when it starts, especially the heavy vehicles and racing cars. So the noise from every vehicle caused by the engines creates sound pollution, which is not good for the environment. To solve this problem, an extra part is added to the vehicles to reduce the noise from the engines, and the part is called muffler.
Cherry Bomb Vs Flowmaster
| | |
| --- | --- |
| | |
| | |
| Model: Cherry Bomb® 7428CB | |
| | |
| | |
| Build with Aluminized Steel | Build with Aluminized Steel |
| Comes with limited lifetime warrenty  | Warrnet verries depend on product. You can check the product level |
| Comes with Cherry Bomb Red Powder Coat | 409 Stainless Steel Construction |
| Flowmaster Chambered Technology | |
| | |
A muffler is a device or an automobile machine, which reduces the noise emitted by the exhaust of an internal combustion engine. It is a special noise-deadening device forming part of the exhaust system of an automobile. Mufflers are installed mostly within the exhaust system of internal combustion engines. The muffler is designed as an acoustic device to reduce the loudness created by the engine.
The process is called acoustic quieting. An inevitable side of a muffler is noise reduction restricts the exhaust gas flow and it creates back pressure. Extra back pressure results in low efficiency of the engine. There are many kinds and brands of mufflers are available. Among them Flowmaster Super 10 and Cherry Bomb Extreme are the popular ones in the market.
Flowmaster Super 10 Review
Flowmaster is a popular name among the mufflers and exhaust systems. The 20 years of their journey proves their excellence in automobile service. Flowmaster builds a wide variety of mufflers to let you tune in to the exact sound you've been looking for.
These mufflers not only have highly engineered chambers but also baffles that cancel out unwanted drone frequencies. All these qualities and beefy, throaty growl makes Flowmaster famous.
Features:
Super aggressive sound level.
Captures and cancels specific resonance inside the vehicle.
Single chamber muffler.
409 stainless steel construction. The overall length is 12.5 inches whilst the frame width is 9.5 inches.
Delta Flow technology for optimum scavenging impact.
Blocks power-robbing atmospheric pressure from entering the system.
This product can expose chemicals including nickel (metallic) and chromium.
Designed for an easy fit and easy installation.
Cherry Bomb Extreme Review
The motto of Cherry Bomb is "Disturb the Peace" – and their mufflers will precisely do that. Over the years Cherry Bomb has started to offer a wide range of mufflers suited to different needs and models of cars.
The journey started from the quieter and performance-based Cherry Bomb Turbo Muffler and Elite Muffler now to the super-high-volume Extreme Muffler. Cherry Bomb offers Extreme muffler to suit your sound and performance needs.
Short body size with unique wing plate design.
Single chamber muffler.
100% welded construction.
Custom tuned flow design.
Designed with a smaller wing, a shorter frame and no inner baffles.
Recommended for aggressive sound.
Who Is The Winner?
The sound quality and material are almost similar to both of the products. You will experience almost the same quality from either of them. Both of them are suitable for loud and aggressive sounds. Both of them are not appropriate for regular uses. You can use them on highways and racings.
But the aggressiveness of sound is extra on Cherry Bomb Extreme than Flowmaster Super 10. Also, Cherry Bomb is a good deal much less expensive than Flowmaster Super 10. So, in case you are on finances and keen on aggressive sounds, Cherry Bomb Extreme is the quality choice to be had for you.
Do Cherry Bomb Mufflers Add Horsepower?
Yes, Cherry bomb mufflers are effective to increase the efficiency of the engines. The Cherry Bomb mufflers give service with less backpressure. The mufflers increase horsepower and produce unmistakable sounds that embody the power under the hood. Since their birth, the Cherry Bomb mufflers are giving high performance and helping your engine run as smoothly as possible, which translates into better fuel economy.
Do Flowmaster Mufflers Get Louder Over Time?
No, Flowmaster mufflers do not get louder by being in use over time. The reason for this is they have no insulation that can break down and cause it to become louder. Flowmasters actually start drowning out after about 10,000 miles.
Does a muffler have any effect on the overall car performance?
Yes, a muffler has an effect on the overall car performance. A muffler can increase horsepower of an engine by increasing the flow of exhaust gases. By increasing the horsepower of a car's engine, it can make the car a lot faster. Thus, it can affect the overall performance of a car.
However, a good muffler not only improves horsepower, but also adds aesthetics to your car and gives your car a modified look. If your ordinarily quiet ride suddenly becomes atrociously loud, then you should examine your car's muffler, if it needs to be replaced or mended.
Related Article