Delphi Vs Moog Lower Control Arms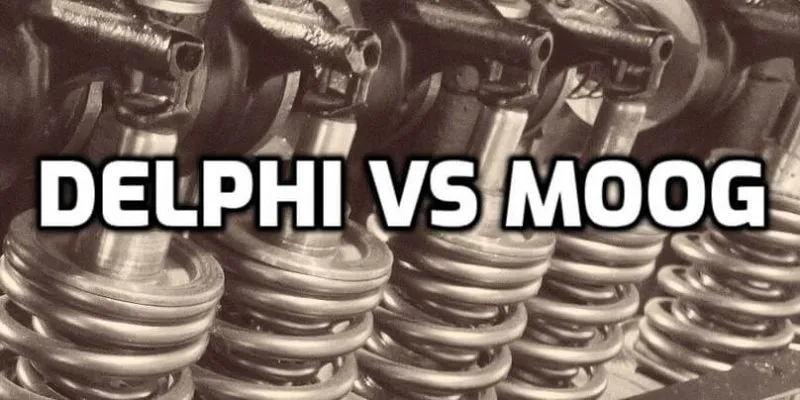 What do you think about when you hear the words "lower control arms?" Do you think of suspension components that allow your car to go over bumps in the road? Or, do you think of a part used on race cars that helps them turn faster at high speeds? If it's either one of those, then congratulations! You're correct. So what's the difference between these two companies' lower control arms? Let's Find out!
Moog Vs Delphi Table
The two brands are often used interchangeably, but each has unique features that make them worth considering individually.
| | |
| --- | --- |
| | |
| | |
| | |
| Ensure Materials Match OE Specifications | Control Arm Material Forged Steel |
| Robot Welding For Consistent Performance & Quality | Heat Treated To Match Or Exceed OE Requirements To Inhibit Premature Failure |
| Comes With Three-year/36,000 Mile Warranty | Limited Lifetime Replacement Warranty |
| Cataphoretic Coating Provides Longer Lasting Corrosion Protection | Pre Installed Dust Boot Shields Socket Components From Wear |
| Delphi Control Arms Undergo 100% Crack Detection | Belleville Preload Washer Helps Keep The Bearing Package Tight |
| Rubber Bushings Are Included With Most Models | Greaseable Socket Reduces Corrosion And Wear |
| Single & Double Skin Construction | Resistance To Wear, Salt, Road Grime And Oils |
| | |
Why Compare?
Delphi and Moog control arms are reliable choices in their fields. Besides, these brands have many similarities and dissimilarities that make them comparable. To find out the comparison between Delphi and Moog, walk with this article till the end.
Highlighted Features
The control arm is also an essential component of your vehicle's suspension system. It connects the wheels to the car's chassis and provides stability. That's why investing in a high-quality quality control arm is also necessary.
But It's a common misconception among automobile owners that buying a pair of wheel bearings or nuts from any manufacturer would be sufficient. Like picking out the appropriate outfits, picking out the right suspension parts is undoubtedly important.
Quality
Low-quality steering and suspension elements can increase wear and tear on other vehicle sections, incurring additional expenditure. Also, it impacts the vehicle's handling, comfort, and safety. Considering this fact, the Delphi manufacturer developed and produced premium quality control arms and wishbones to satisfy the rigorous OE requirements.
In contrast, there's no secret that many automobile owners favor the suspension parts manufactured by Moog. Moog's R-Series Control Arm can help bring your car's wheels back in line. Moog constructed their control arms with aluminum or steel to minimize wear and friction in the R-Series. This part is built to last as an excellent suspension component designed to withstand the daily demands of your driving.
Performance
Throughout different tests, experts found that Delphi designers built the control arms to handle all the stresses on the road. For example, Delphi's three-axis test setup allows users to analyze three forces simultaneously: braking, cornering, and suspension travel.
On the other hand, the Moog Control Arm features problem solver bushings and ball joints for improved performance and simplicity of installation. The ball joints have several design upgrades, including a redesigned, patent-pending primary dust boot, improved forged housing, and a mushy industrial mess bearing design.
Warranty
Moog is famous for the lifetime warranty it gives on different vehicle parts. But it provides a three-year warranty on Moog control arms and hub assemblies. Delphi's control arms and wishbones will operate the original equipment because of our thorough testing. This is why Delphi steering parts come with a three-year or 36,000-mile guarantee, depending on the model. Its dedication to the highest quality standards will enhance your peace of mind.
Delphi will repair or replace a product for free throughout the warranty if a product is faulty in materials or quality. Delphi maintains the right to repair or replace a defective component at its discretion and the right to substitute an equivalent product within the conditions of this warranty.
Extreme weather and Corrosion resistant
Manufacturers also test Delphi's resistance to severe weather conditions and acidic compounds. Experts show that it can withstand up to 120 degrees Fahrenheit and -40 degrees Fahrenheit during the test.
The rubber-to-metal adhesion of the control arms is evaluated by exposing them to 720 hours of salt spray. As a result, you may fit them with confidence, knowing they'll function, even in the worst.
On MOOG control arms, they apply specialized coatings to prevent corrosion and damage from the environment. Metal control components are coated with MOOG e-coat to minimize erosion and preserve exposed metal.
Pros and Cons of Delphi 
Pros 
Consistent performance with minimal maintenance.
To ensure maximum durability, this product is made with premium materials.
The product is manufactured to meet or surpass rigorous quality standards.
This control arm suits almost any model of vehicle.
Cons
It may break down by excessive use.
Pros and Cons of Moog
Pros 
Each set of arms has undergone a rigorous examination and is backed by a bench test guarantee.
It is suitable for a wide range of local and international automobiles.
It has geometric mapping in the manner of OE for improved alignment and fit.
Both the top and lower joints have grease fittings.
Cons
After a lengthy period of usage, you may notice some tinny noise.
How Long Should A Control Arms Last Before It Has To Be Replaced?
Over time, wear and tear on the control arm assembly might cause it to become bent. Assemblies of this type often last 90,000 to 100,000 kilometers. A considerable pothole or an accident might cause them to wear out more quickly. Various system elements, such as bushings and ball joints, may wear out.
When Does A Control Arm Fail?
If your control arm fails for any reason, you'll face the following symptoms:
Many different types of noises may be heard when traveling over bumps or accelerating and decelerating.
Problems with the steering include wandering, tugging to one side, or difficulty tracking straight when driving, stopping, or on uneven roads.
How Much Does A Control Arm Repair Cost?
Replace a control arm costs on average between $633 and $675. Parts cost $472, while labor expenses range from $161 to $203 per hour. In addition to taxes and levies, this range does not consider the type of car you drive or your geographical location. It may also require further maintenance specialists.
What Happens If You Don't Replace Your Control Arms?
As a result of faulty control arms, suspension components might be misaligned, which can cause pulling or veering to one side of the vehicle. In bumpy or uneven terrain, this problem is particularly obvious.
Is It Safe To Drive My Car With A Damaged Steering Wheel?
It's possible to drive your car for a week or less with the damaged or worn-out control arm. However, it would be best to fix the control arm as soon as you notice the problem using one of these ways before the suspension is compromised.
Our Observation
It is evident that Delphi control arms are of better quality than Moog. They are Consistent performance with minimal maintenance. To ensure maximum durability, this product is made with premium materials. The product is manufactured to meet or surpass rigorous quality standards. However, they may break down by excessive use.
On the other hand, Moog control arms have undergone a rigorous examination and are backed by a bench test guarantee. It is suitable for a wide range of local and international automobiles. It has geometric mapping in the manner of OE for improved alignment and fit. Both the top and lower joints have grease fittings. But after a long usage period, you may notice some tinny noise.
Hopefully, you got all your answers regarding why most users compare Delphi and Moog control arms. Also, in this article, you get to know the pros and cons of these brands that'll help you buy control arms.
Frequently Asked Questions (FAQ)
Delphi is one of the world's leading suppliers of suspension components, and has been for many years. Based in the United States, Delphi offers a wide range of suspension parts for both cars and trucks. Whether you're looking for replacement parts or performance upgrades, Delphi has the right suspension components for your vehicle.
Yes, Moog makes good control arms. In fact, they're one of the leading manufacturers of suspension parts. Their control arms are made from high-quality materials and are designed to provide superior performance. Plus, they offer a wide variety of options to choose from, so you can find the perfect set for your vehicle.
Yes, Delphi makes good suspension parts. In fact, they're some of the best in the business. The company has a long history of making high-quality suspension components, and they continue to innovate and improve their product line. If you're looking for reliable, performance-oriented suspension parts, Delphi is a great option.
Yes, MOOG heavy-duty parts are built to last. They're designed for tough conditions and harsh environments. So you can trust them to keep your vehicle running smoothly, no matter what.
Related Article