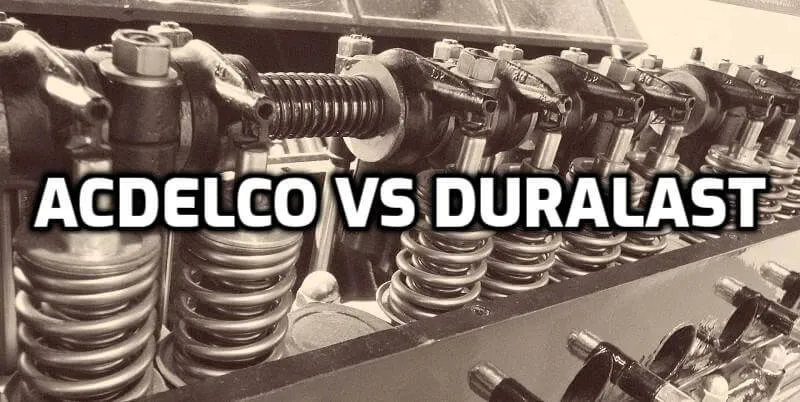 There is no doubt that a brake is an essential part of a vehicle. The primary function is to consume energy from moving parts and helps it to slow down by friction. A brake helps a vehicle to stop within the minimum distance possible. That means a brake pad can reduce the chance of unwanted accidents.
For that reason, every car owner wants to install a brake pad for their vehicle. However, the two very common brake pads are ACDelco and Duralast. Here we will talk about the details and the features of the ACDelco and Duralast. So without further ado, let's get started.
Acdelco Vs Duralast Table
Acdelco and Duralast. We'll cover topics such as performance, durability, and cost to help you determine which brand is best for your needs!
| | |
| --- | --- |
| | |
| | |
| | OE Grade Friction Material |
| Premium Aftermarket Replacement Part | Direct Replacement For The Original Brake Pads |
| Tested Using AMP3 Standard | Textured Rubber Shim With Adhesive |
| Helps To Diminish Noise, Vibration, & Braking Harshness | Comes With Premium Burnishing Strip |
| Material Ceramic, Semi Metallic | |
| Can Resist Corrosion & Premature Wear | Corrosion Resistance & Quieter Braking |
| Ready To Be Installed No Need To Assemble | Ready To Be Installed No Need To Assemble |
| Friction Material Molded To Backing Plate For Bond Integrity | Specialized For Neutralize Vibrations & Eliminate Noise |
| 24 Month/Unlimited Mile Limited Warranty | Limited Lifetime Warranty |
| | |
Why Compare?
With the numerous brands of brake pads on the market today, it can be difficult to determine which one is right for your vehicle. There are some key differences between Acdelco and Duralast that may help you decide which is best for you. While both brands offer great products, they vary in quality and price point. In this post, we will go over what these differences are so you can make an informed decision before buying a new set of brake pads!
Material
The very first difference you'll notice in these brake pads is material. Now, may you want to know about the materials of these brake pads and how they make a difference in their performance? Basically, The ACDelco brake pad is made of ceramic, while the Duralast pad has organic and semi-metallic formulations. 
So previously, brakes were made of toxic material before it was introduced to organic material. However, there are many disadvantages to using toxic materials in brakes. That's why Duralast introduces organic or semi-metallic material to their brakes.
The most important benefit of organic or semi-metallic you'll get durability and solid response from the brake at the same time. Therefore, you need to press the accelerator firmly to slow down. However, using this brake can come in handy in various driving conditions.
On the other hand, ACDelco will provide you more benefits cause they use ceramic in their brake pads. Ceramic is suitable for almost every kind of vehicle. One more thing ceramic brakes do not contain direct ceramic compounds. They contain binding substances and metal residue. Thus it improves the thermal and friction resistance in the brake.
Consequently, there is no doubt that ACDelco's ceramic brake pads are more suitable compared to others. Also, you'll experience the most smooth driving cause it can handle nearly any type of driving situation. Another great feature of ceramic brakes is that they create no sound during driving.
Brake Dust
As Duralast contains organic and semi-metallic material, they're more likely to produce dust. But this brake pad is suitable for aggressive and high-performance vehicles. 
However, this brake is not the quietest you'll find. Thus it wears and tears out fast also creates brake dust. Besides, the black brake dust will stick to the wheel of the vehicle. Another fact about Duralast longevity is that it will last longer from the metallic brake but shorter than the ceramic brakes.
To compare with Duralast brake, ACDelco brakes are more flexible because of their features. Among other features, the most significant is that this brake produces less brake dust.
So the dust becomes less likely to be an issue since ceramics are harder to wear. In addition, the polish produced by ceramics is fine, light, and less susceptible than metallic dust to stay with your wheels. Therefore, ceramics are not as sensitive to the weather as other substances. So they are properly maintained even if you drive your vehicle severely.
Installation
The installation of ACDelco is quite straightforward. You won't have to sweat much in your vehicle, therefore. Furthermore, the simple design and great quality of the ACDelco 14D785CH make it a very good product with outstanding braking performance.
In comparison to other brakes, installing Duralast brakes is not difficult. But it is important to consider the connectivity with your car unless you'll find further problems while installing the brakes.
To avoid problems, the Duralast brake pad always provides instructions. Read the instructions, and it'll make the installation straightforward regardless of the model you choose.
ACDelco
Pros
This brake's ceramic composition ensures safety and dependability in many vehicles uses.

Basic screws, slots, and hooks reduce sound, vibration, and hardness of braking.

Do not need any machining.
Cons
It needs some assembly skill; they could squeal otherwise.

The packet of lubricants is limited.
Duralast
Pros 
It produces very little dust.

Duralast has high thermal transfer characteristics.

Easy installation.

It matches the OE brake pad quality.
Cons
Some brakes may crumble after placement.

Duralast pads are not a suitable option for a sports car.

Some versions might damage rotors.
What Is The Function Of Brake Pads?
Inside the caliper, the brake pads settle down and continue to ride until you press the brakes. The brake pedal lever pulls a piston within that hydraulic pressure. Brake fluid is negligible, and inside the brake caliper, it pushes the brake pad into the rotor.
Do The Same Mechanism Have All Ceramic Brake Pads?
All ceramic brake pads have more or less the same process, but the technology in Shims & Chamfers' materials makes a substantial difference. However, they produce fewer vibrations and less noise.
What Is The Lifetime Of The Brakes?
The brake pads last from a range of 30 thousand to 70 thousand miles. Check the service intervals of your owner's handbook. The style and place of driving are a part of this. 
Stop driving, motoring high performance, and lorry or towing might hasten brake pad wear. Short-distance or uncommon road salt driving, brake pistons, and rotors can ruin the brakes' lifespan. The best approach to identify wear of the brake pad is via thorough observation.
Do Ceramic Brake Pads Create Sound?
Ceramic brake pads are usually rather quiet. However, noisy sounds may occur if you don't use them for a long time. Or it may be the sign that the brake needs more lubricant.
Summary
If you've made it this far, you already know how much importance brake pads have. And you need a quality brake for your vehicle. And what can be more useful than ACDelco and Duralast brakes?
However, in this article, we discuss everything about these brakes. So whenever you want to buy any of these brakes, keep in mind the discussed information.
Related Article