Truxedo Pro X15 VS Truxedo Lo Pro Tonneau Cover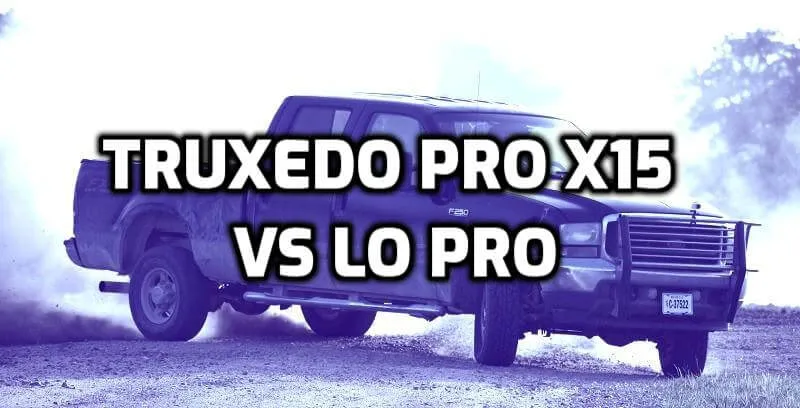 Truxedo is one of the leading industries in manufacturing tonneau covers; retractable, hard, tri-fold, and soft roll, it has every variety in its collection. Also, some of the models are the bestselling ones across North America and even throughout the world. Often buyers get confused between the models, and thus there arises plenty of queries regarding the Truxedo Pro x15 and Lo pro feud.
Truxedo Pro X15 Vs Lo Pro Table
The Pro x15 and Lo pro are two models that many buyers have inquired about as they find it hard to decide between them. This Table  will provide an in-depth comparison of these two products so you can make the best decision for your truck or SUV!
| | |
| --- | --- |
| | |
| | |
| Model is Truxedo Pro x15 1497701 | Model is Truxedo Lo pro 572001 |
| | |
| Woven Polyester And Vinyl | Double Coated Vinyl Tarp And Aircraft Grade Anodized Aluminum |
| | |
| | Rear latches Lock Mechanism |
| | |
| No Drilling Or Special Tools Required Installation | Trouble Free Installation (No Drilling Or Special Tools Required) |
| Self Leveling Design Allows For A Faster Fitting In Your Truck. | Without Tools, Providing True 100% Full Bed Access (Cover Can Be Easily Removed) |
| Fits 09-18, 19-20 Classic Ram 1500 5' 7" Bed (67.4") | Fits 09-14 Ford F-150 5' 7" Bed (67") |
| | |
Why Compare?
Both these models being the soft roll-up type, mostly feature similarities; there are hardly any differences. To be frank, the Truxedo is merely an upgraded version with some additional features of the Lo Pro. Though the overall mechanism is almost the same, these two models stand apart in certain aspects such as the material, design and appearance, installation process, and many more.
Our expert team has found out the most delicate details regarding these models to avoid confusion while purchasing them.
Material and Durability
Truxedo Pro x15 features unique fabric material; the woven material looks stylish and is superior grade and extremely durable. The overall matte black finish maintains crispiness with dirt and dust-resistant properties. The woven polyester and vinyl material work as double power and even prevent dirt when the vehicle is in motion. This tonneau cover uses an aluminum side rail for utter strength.
Lo Pro flaunts the best possible construction material in the industry; the double coated vinyl tarp and aircraft grade anodized aluminum framing. The double-coated vinyl tarp is tear-resistant and UV ray protective. It is extremely durable and runs for an even lifetime if maintained properly. Again the aluminum framing ensures robust construction and ultimate protection for the cargo inside.
Design
Truxedo Pro x15 excels in its low-profile design and is probably the lowest mounted model. The distinctive flush mount look makes the cover hardly seen from outside. The matte black finish enhances the appearance of your truck. It has unique 15-degree side rails, and it sits only half an inch above the truck bed. Moreover, the self-leveling low profile design also evidently reduces wind drag resulting in improved gas mileage and fuel economy.
Lo Pro goes way ahead in design and appearance. It outstands all its contemporaries with its unique patented design. The leather grain fabric gives a glossy finish to the tarp and looks extremely sleek. It sits 3/4 inches above the truck rails and offers a low-profile design. Apart from the low-profile appearance, a fascinating part of this model is its complete mount design. Everything is mounted inside and is hidden from the outside.
Weather Protection
Truxedo Pro x15 offers has probably the tightest fit due to the available contact points. This tight-fit construction seals the cargo and prevents any weather conditions. Moreover, the tarp can resist UV rays and extreme weather, including heavy rain, snow, and dust wind. Also, it features automotive-grade seals at tailgate and cab help to keep dust and rain away from the truck bed. The tarp resists extreme sunlight and prevents any fading.
Lo Pro is highly recommended for anyone who is into transporting fragile cargo as it outshines every other model in weather protection. It comes with the revolutionary self-adjusting spring tensioner, which keeps the cover intact with the truck bed rail. It prevents any water or dust intrusion and seals the cargo inside. Also, for further protection, Velcro "floating hook" technology; allows the seat to float back and forth along the rail. This feature is designed mainly to protect delicate cargo. Lo Pro can protect the truck bed against -20 to 120 degrees temperature.
Ease of Use
Truxedo Pro x15 minimized the rolling hassles and launched single-finger operation for ultimate customer comfort. It features an anodized trigger latch that needs only one finger to simply open that cover. The trigger latch is located at the driver's side. The overall removing process can take the highest few seconds. Again, the mount is designed to provide stake pocket access. Thus users can easily add accessories such as rail caps, side rails, and bed liners.
Lo Pro is fully removable and provides 100% bed access to the drivers. If you intend to carry oversized cargo, nothing can be more appropriate than this truck bed cover. The automatic tension control minimizes any manual effort and keeps the rolling smooth. Also, it adds extra cargo space; thus, buyers can carry extra material. The trigger latch with single-finger operation literally limits any hassle.
Lock Mechanism and Security
Truxedo Pro x15 keeps it extremely simple and does not use a complex lock mechanism. Due to the robust build, it is capable of protecting the cargo by itself without any extra features. Yet, it can be locked with the tailgate. If you are carrying anything expensive or want to prevent theft, it is better to install a tailgate lock (if there is not already any). Being locked with the tailgate, it becomes inaccessible for those who do not own the key.
Lo Pro steals the show when it comes to security as the manufacturer includes some extensive seals to take the security to another level. It has 4 ways sealing options to intensify the security. This model incorporates a rear latching system that opens when the tailgate lock is opened for ultimate protection. Also, the hook and loops are extremely reliable to protect the cargo.
Installation
Truxedo Pro X15 is more accepted for the no-drill installation process. Users don't need any extra tools or extra hands for help. It can be installed within 30 minutes or so.
Lo Pro makes the installation a DIY task as it requires no drilling. Customers may need some simple tools and can alone do the installation task. Arguably it takes 20 to 30 minutes to install this model.
Summary
Both the models belong to the same brand are widely famous among the customers. The Truxedo Pro x15 vs. Lo pro debate concludes the confusion among the buyers and will let them invest based on a learned decision.
Frequently Asked Questions (FAQ)
Yes, TruXedo does have a lifetime warranty on all of its products. This means that if any of your TruXedo products ever fail, you can simply return them for a replacement. There's no need to worry about the cost of repairs or replacements – we'll take care of it all for you. So enjoy your new gear knowing that it's backed by our lifetime warranty.
Yes, TruXedo tonneau covers are made in the USA. All of their products are designed and manufactured in their South Dakota facility. This allows them to have complete control over the quality of their products. They are constantly innovating and improving their designs to ensure that their customers have the best possible experience. TruXedo is proud to be an American company and is committed to providing the highest quality products to its customers.
Tonneau covers are a great way to improve your gas mileage. They help keep your cargo area covered and protected from the elements, which can help improve your gas mileage. In addition, tonneau covers can also help reduce wind drag on your vehicle, which can further improve your gas mileage. So, if you're looking for ways to improve your gas mileage, consider investing in a tonneau cover.
Leaving your tonneau cover on all the time can be beneficial in a number of ways. First, it can help protect your cargo from the elements. Second, it can deter would-be thieves from breaking into your truck bed and stealing your belongings. Finally, it can help keep your truck bed clean and free of debris. Ultimately, whether or not you leave your tonneau cover all the time is up to you and is dependent on your specific needs and preferences. However, if you are looking for maximum protection for your cargo, deterring thieves, and keeping your truck bed clean, then leaving your cover on year-round is a good option.
Related Article