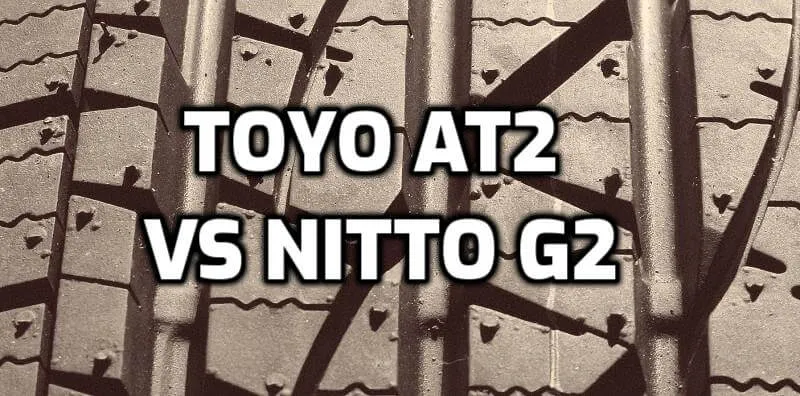 What tire is the best for your vehicle? That's a question that many drivers have when it comes time to purchase. If you're looking for something affordable, then you should consider Toyo Open Country AT2 tires. These are great all-terrain tires that will get the job done in any situation. You can find them at most major retailers, and they come with a 60,000 mile warranty! The Nitto Terra Grappler G2 is an excellent choice if you want more of an aggressive look on your truck or SUV. It also has a 50k mile warranty so you won't need to worry about wearing these out anytime soon!
Compare Table
The summer heat is here and your tires are the only thing standing between you and a good time. This Table will Compare Two tire brands that offer great quality for an affordable price so that you can get back on the road as soon as possible!
Load Carrying Capacity 3197 Pounds


Load Carrying Capacity 2756 Pounds

Aspect Ratio of The Tire is 75


Aspect Ratio of the Tire is 60

It Offers Excellent Traction & Tread Life

Reinforced Coupling Joints For Long Life

Blatantly Aggressive Tread Design For Quiet Ride

Full Depth Sipes For Strong Traction On Wet Surfaces


Comes with Wear Resistant Tread Compound


Variable Pitch Thread Blocks Provide

Comfortable Ride

65,000 Miles Thread Warranty


50,000 Miles Thread Warranty

Suitable for SUVs, Trucks and Crossover vehicles


Suitable for SUVs, Trucks and Crossover vehicles
Why Compare?
Experience vehicle owners don't buy the tire that is selling hot. They tend to look at the market, and products are available. Price range and similar sort of things. Because they have a firm grasp on the fact that if the rim size differs even by an inch, it can drastically change your vehicle's performance. So, researching and buying the tires that help your vehicle perform better is the ideal and only way we know. 
These two tires that we've chosen today are built with power engraved in them. Their beefy look and solid structure will surely make it visible. It's not just the looks. They have the quality specification to back their superiority. 
We've constructed a comparison article containing these two tires primarily because of the huge request by our viewers. They've shown heavy interest in these two tires, and we thought it was worth it to give it a go. Here it goes, has a read. 
Tire Type & Quality 
The A/T2 is one of the finest products made by Toyo. This versatile tire comes with multiple benefits. The sidewalls are huge, and tread blocks are kept open to get top-class performance in mud or smooth terrain. The tread compound and wear resistance, giving up greater tire life as promised. The blocks of the tires are polygonal, and sipes are designed in zigzag. Grooves are deep and come with stone ejectors. One very unique feature is the tie bar between blocks. 
Nitto has always produced quality tires, G2 is no different. The exterior tread blocks and the center blocks have copulated so you get even stronger resistance against wearing. The sipes are full in-depth. Tire shoulders are shredded and tough to break into. On top of that tread blocks are computer analyzed. Last but not least, the sidewalls designs are featured on both sides. Making it ideal for showcasing your personality.
 Tread & Section Details
Let's have a quick review of their tread and section details. Starting with the first one. Toyo made tires have a section width of 285mm along with 17 inches rim diameter. The aspect ratio of this radial tire is 75. The tread depth of the tire is very strong 17 32nds. Load-carrying capabilities stand out largely. The index is 121 with a capacity of 3197 pounds. The speed rating is S for both these tires. 
The Nitto made tires fall slightly short compared to the first one, but they have their pros. They have a section width of 275mm with a rim diameter of 20 inches. The aspect ratio is 60 for this radial tire. The load-carrying capacity is 2756 with a load index of 116. The tread depth of the tire is 13 32nds.
Traction
Traction is one of the main parameters of how you can measure performance. And these two tires do well in this too. Nitto terra grappler G2 is a tire built to withstand any weather and give you the same excellent service year round. 3peak snow rating illustrates that these tires are well-prepared for extreme conditions. Being tough they will also give your sufficient traction in occasional off-roading.
A/T2 is an all-terrain tire. The tire will go the distance for you. Off roads won't hurt your tires much. On top of that, their grip will surprise you and offer you greater confidence.
Lifespan
What impressed me about the A/T2 is, having been an all-terrain tire it has an astonishingly good warranty period. The lifespan for both tires is long. And to tell you the truth, tires are usually installed for the long term. Terra grappler offers a lesser warranty of 50,000 miles. But customers who used the tires have reported that the average lifespan of the tire is easily 80,000+ miles. Of course, the segment is owned by A/T2 for their 100K+ average millage. 
Suitable for
Having a look at the tires, you get an idea of what these are for heavy weight lifting or towing vehicles. Both these tires come with a strong exterior along with the technical brilliance that is already discussed. 
Both these tires perform similar activities, and they are the perfect choice for SUVs, Trucks, and Cross over vehicles. They have fairly impressive weight lifting capabilities. Even though both tires' type varies, we must address that they give each other a tough fight for their money.
Price
The price of tires varies widely. Tires are available from $50 to $1000+. The spread is too big to consider as a whole. So, the intelligent way is to divide the segment into three sectors: low, mid, and high. 
These tires are Entry level mid-range tires. But their quality surely stands out. These tires are known for their sturdy-built quality that we've already talked about. But they were converted to fan-favorite tires once they are price to generously. Open country at2 is priced slightly higher than the grappler g2, but that is the least concern for the consumers who love the tire dearly.
Summary
Cheap tires or off-brand tires can lead to hazardous incidents. Branded tires are tested rigorously to ensure performance and safety. These two we talked about are good examples of branded tires.
Frequently Asked Questions (FAQ)
Are Nitto Terra Grappler G2 tires good in the snow?
Yes, Nitto Terra Grappler G2 tires are good in the snow. They offer excellent traction and grip on icy and snowy roads, making them a great choice for winter driving. The Terra Grappler G2's aggressive tread pattern also helps to clear snow and slush from the tires, providing even better traction and grip on slippery surfaces. If you're looking for a tire that can handle winter driving conditions, the Nitto Terra Grappler G2 is a great option.
No, Toyo and Nitto are not the same. They are two completely different brands. Toyo is a Japanese company that makes tires, while Nitto is an American company that specializes in aftermarket car parts. While both companies make quality products, they are not interchangeable. So if you're looking for new tires for your car, you'll want to buy Toyos. But if you're looking for a new exhaust system or set of rims, then you'll want to go with Nitto.
Toyo Open Country AT2 tires are built to last. They feature a tread life of up to 40,000 miles, making them a great choice for those who want a tire that will go the distance. With their all-terrain design, they're also a good option for those who want a tire that can handle any terrain. So, if you're looking for a tire that will last and perform, the Toyo Open Country AT2 is a great choice.
Yes, Toyo Open Country AT2 tires are generally known for being quite quiet. This is one of the reasons why they're so popular among drivers who do a lot of highway driving. If you're looking for a tire that will give you a peaceful ride, the Open Country AT2 is definitely worth considering.
Related Article