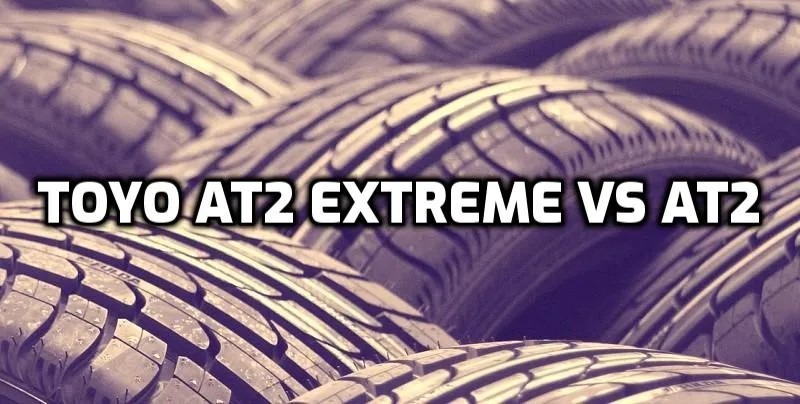 When it comes to tires, there are not many options for an all-terrain tire that can withstand the most intense conditions. Toyo AT2 Extreme tires are designed to tackle the roughest terrain. In this article, we compare the Toyo AT2 Extreme with the Toyo AT2. Both Toyo at2 extreme and at2 are made in the USA.
Good tires are necessary for enjoying a smooth and safe journey in all conditions like wet, dry, wintry, and snowy conditions. These two tires are fit for pickups, vans, light trucks, SUVs, etc.
Toyo AT2 Extreme vs AT2 Chart
This comparison table might help to buy the best tires for your vehicles. The comparison table shows the exact data and you will get both tires' details by placing them side by side. Also, comparing between two tires is essential to opt for the best tire.
| | |
| --- | --- |
| | |
| | |
| | |
| Overall Diameter 33.9 inche | Overall Diameter 32.8 inche |
| Max Pressure Single 80 (psi)  | Max Pressure Single 80 (psi)  |
| | |
| Max Load Single capacity 3195 Lbs | Max Load Single capacity 3085 Lbs |
| | |
| Treadwear Warranty 50,000-miles | Treadwear Warranty 50,000-miles |
| Designed with a staggered block edge that is combined with a hook skirt in the center blocks that helps to improve handling and traction during braking and accelerating in all conditions, | Polygonal blocks and zigzag sipes designed for superior snow performance. |
| Comes with Deep tread grooves to improve traction on rainy or damp roads and also help to dig into sticky mud, slush, and snow. | Stunning sidewall and open tread block design offers tough looks and better performance on the surfaces like wet, dry, tarmac, snow, while managing a peaceful drive |
| It is fit for light trucks and SUVs like Kia Telluride, Subaru Ascent, Hyundai Palisade, Nissan Frontier, Jeep Gladiator, Chevrolet Colorado, Ford ranger, etc. | Especially used in pickups, vans, light trucks and SUVs like Toyota sienna, Mercedes-Benz Metris, Ford transit, ford transit connect, etc. |
| | |
Toyo AT2 Extreme Tire
Toyo at2 extreme is also known as a Toyo open country AT2 extreme in the market. The durable and reliable Toyo at2 extreme tire is designed to perform exceptionally well in many conditions. It provides perfect traction on severe conditions you need with more viability and lifetime than the competition.
It is suitable for light trucks and SUVs. It is designed to perform on-road and off-road. Provides better traction and comfort in wet, dry, and light snowy conditions. They are designed to provide a smooth ride on the road and reliable traction on pebbles, rocks, and mud.
Toyo AT2 Tire
Toyo at2 is also an all-season and all-terrain tire that offers exceptional wet and snow traction with outstanding mileage. This innovative and versatile all-terrain tire smooth handling, proper braking, perfect traction, comfortable ride in on-road or off-road stability.
It offers excellent and stunning mileage for pickups, vans, and SUVs. It comes with a 45,000 to 60,000 mileage treadwear warranty. Aggressive sidewall and block designed to provide tough looks and robust performance in dirt, sticky mud or snow, while managing a decent ride.
Comparison between Toyo at2 extreme vs at2 helps you to select the best tires among many other tires. There are lots of tires available right now from similar or different brands. All are approximately the same and stunning. So, one may get confused when they come to buy tires for their light trucks or SUVs. In these cases, comparison between two or more two tires is crucial.
Primary Difference
Both tires are mostly similar and provide almost the same performance. Toyo at2 extreme is an updated and latest version of Toyo at2. The main difference between these two tires is, Toyo at2 extreme has slightly deeper tread blocks, elevated sidewall patterns, and the extreme is usually found on their larger size.
On the other hand, Toyo AT2'S is designed with an aggressive sidewall open tread block to improve traction in all conditions and 8T is the only option on those larger sizes. Top features and benefits of Toyo at2 extreme and Toyo at2 tires
Key features of Toyo at2 extreme
Staggered block skirt combined with a hook edge design in the center blocks helps grip onto the mud, clay, slush, and snowy conditions to improve traction during braking, handling, and accelerating in these conditions. Also, increase off-road viability.
Designed with sizeable deep tread grooves with stone ejecting blocks that improve traction on damp or rainy roads and allow digging into clay, slush, and snow.
The bar between blocks stabilizes tread blocks to lessen irregular wear and road noise and enhance braking and handling.
Designed with multi-wave 3D sipes that decrease the chance of block movement for better wet and dry performance with less chance of irregular wear.
The tapered claw edges within the tread grooves improve traction in shallow mud, snow, or slush.
Wide evacuation grooves help to evacuate water, dirt, sludge, and snow from the center of the tire and offer a pleasant journey.
Key features of Toyo at2
Updated wear-resistant tread material gives excellent viability and increases the life of the tread.
Aggressive sidewall and open tread block design deliver better traction, handling, and braking on the surface including wet, rainy, dry, snow, pebble, grass, clay, and sand.
Providing long distance safe journey and optimized pattern arrangement distributed at variable pitches the tread pattern is designed to enhance traction and reduce street noise.
The performance of sealed road grip, puncture resistance, cutting or chipping resistance, reduced road noise, ride comfort, tread life, fuel efficiency is top rated.
Final Verdict
Considering all the information that is mentioned above, I must say both tires are good overall. But in some cases, Toyo at2 extreme performs better than Toyo at2 in off-road traction, fuel efficiency, traction in any conditions. But, Toyo at2 also has a good tire constructed to provide a better ride on almost all surfaces.
Frequently Asked Questions (FAQ)
How long do Toyo AT2 tires last?
Toyo AT2 tires are designed to provide long-lasting performance. They are manufactured with quality materials and construction, and they undergo rigorous testing to ensure they meet the high standards set by Toyo. Because of this, Toyo AT2 tires typically last longer than other brands. In fact, many customers report getting over 50,000 miles out of their Toyo AT2 tires. So if you're looking for a tire that will give you years of dependable service, consider Toyo AT2. You won't be disappointed.
AT2 tires are designed for light trucks and SUVs, while AT3 tires are designed for heavy duty trucks. AT2 tires have a tread pattern that is optimized for on-road use, while AT3 tires have a tread pattern that is optimized for off-road use. AT2 tires also have a higher speed rating than AT3 tires.
Yes! Toyo Open Country AT2s are great in the snow. They have a deep tread that helps grip the road, and they're built to withstand harsh winter conditions. So if you're looking for a tire that can handle anything the winter throws at you, the Toyo Open Country AT2 is a great choice.
Yes, Toyo Open Country AT2 tires are quiet. In fact, they're designed to provide a smooth, comfortable ride. They also feature an advanced tread design that helps reduce noise. So you can enjoy a quieter ride on your Toyo Open Country AT2 tires.
The average lifespan of a Toyo AT3 is approximately 60,000 miles. However, some drivers have reported getting up to 70,000 miles out of their tires. With proper care and maintenance, it is possible to get even more mileage out of your Toyo AT3s. Here are some tips to help you get the most out of your tires:
-Check the air pressure regularly and inflate it to the recommended pressure.
-Rotate your tires every 5,000 miles or so. This helps evenly distribute wear and tear.
-Avoid driving on rough roads or in extreme weather conditions whenever possible.
-Make sure your wheels are properly aligned. This can help extend the life of your tires.
Following these tips should help you get the most mileage possible out of your Toyo AT3 tires. Happy driving!
Related Article