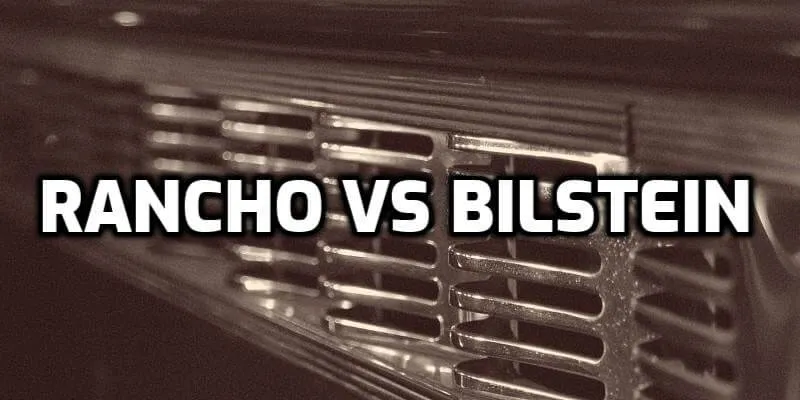 Leveling or lifting the vehicle is one of the go-to mods for a thrilling off-road experience. Those few inches of lift can really add a new dimension to your weekend adventures. Whether you are looking for good clearance for your daily driver or want to blast through stormy deserts, a quick lift comes in handy. 
Rancho and Bilstein have been the kings in the industry offering top-value products for the price. The Rancho Quicklift and Bilstein 5100 debate has been part of the SUV and Truck community for a long time. With both the brands striving for ultimate performance, it's not easy to choose one. Well, it all comes down to preference, and let's see why.
Rancho Quicklift Vs Bilstein 5100 Table
Many car enthusiasts are always looking for a way to improve the performance of their vehicle. One area that can provide significant gains is your suspension system. With so many options available, how do you know which one will work best?
| | |
| --- | --- |
| | |
| | |
| Easy Bolt-on Installation | Easy Bolt-on Installation |
| Features nine levels of performance thanks to its superior adjustability. | Monotone design for cooler, more efficient operation and longer life |
| Offers an aggressive stance and improved ground clearance of about 1 to 2.5 in.  | Is the ideal replacement for coil spring spacers. |
| Comes packed with a handy and specific spring coil along with an upper mounting plate for bolt-on installation | Offers lift up to 2.75in paving the way for thrilling offroad adventures.  |
| Ensures comfy ride on both road and off-road conditions | Boasts zinc coating for durability. |
| Features low friction and self-lubricating seal. This ensures optimum durability. | Comes with a handy snap ring ride height adjustment for max versatility.  |
| Includes RS9000XL strut with nine-position easy-to-adjust knob | 5100's monotube design and patented digressive valving is uniquely suited to confront |
| Rancho quickLIFT loaded assemblies level and lift late model trucks and SUVs. | Ideal for leveling out the front of SUVs and half-ton trucks. Enhances look and performance of the vehicles.  |
| Offers reduced damping and foaming due to minimized air to oil mixture.  | Designed for fade-free performance on all tracts. 46mm monotube design offers consistency.  |
| | |
Why Compare
The main difference between Rancho Quicklift and Bilstein 5100 Shock Absorber is that Rancho Quicklift is a hydraulic shock absorber and the Bilstein 5100 Shock Absorber is an adjustable gas shock absorber.
Aftermarket parts are always tricky. They come at different price ranges and can differ a lot in terms of quality. You may be baffled at first glance due to the engineering terms used for marketing these quick lifts. That is where an in-depth comparison like this comes in handy. This will make you aware of the key factors that set these brands apart.
Main features of Rancho Quicklift
Complete And Easy
Offers easy and instant lift to trucks and SUVs without breaking the bank. Thus you get to save some cost and still ride in style and comfort. Unlike crapy quick lifts, Rancho offers super-fast bolt-on installation that will get you going in only a few hours. 
Superior Ground Clearance
With improved ground clearance, you will have all the freedom for the ultimate off road adventure. The 1 to 2.5 inches of additional lift offers space for larger performance-oriented tires. This gives the ride a beasty look and makes it ready for the tough challenges ahead. 
Flexible Performance
This banger can be set to perform at nine levels of performance to suit your needs. The adjustable knob lets you have total control over damping and firmness. Thus you get the most customized performance in your daily commutes and off road trips. 
Optimum Durability
Rancho quick lifts offer the perfect blend of high-end materials and top tech engineering. It features a self-lubricating, low friction seal that effectively retains gas and oil. Thus they offer butter-smooth rebound and compression even on challenging tracts. The premium metallic finish feels premium and also ensures a solid exterior for durability. 
Main features of Bilstein 5100
Engineered For Top Performance
Bilstein has been the go-to brand for aftermarket quick lifts for quite a time. The B8 5100 is no exception. It features a 46mm monotube design that has been the secret sauce behind the breathtaking performance this masterpiece delivers. 
Extremely Versatile
What you will love about this amazing workhorse is its wide adjustability. The inbuilt adjustable perch lets you lift your ride up to 2.75in. Thus you can stay low and stable in smooth tracks while high and safe on rough terrains. 
Multipurpose And Affordable
Being versatile the Bilstein 5100 is prepared to take on any challenge that comes on its way. The easy installation process saves you up time and money. Thus you will be getting a hard-to-match price to performance ratio. 
USA Based Manufacturing
Worried about the manufacturing facilities your parts come from? Bilstein has an incredible feat of having USA-based manufacturing. It's a matter of both pride and comfort as you won't be making any compromises in terms of quality. 
Our Verdict
It's never easy making a choice among two giants in the industry. Both Rancho and Bilstein have done exceedingly well in terms of consistent performance. With reviews backing up both these gems, it was always going to come down to preference. 
Rancho quick lifts are undoubtedly the more expensive option here. They do cost a bit more but surely live up to the price. Easy installation is what sets them apart from the competitors. But if you are someone with a habit of getting hands dirty, Bilstein will offer you stable lifting performance at an affordable price.
Do Rancho shocks lift your truck?
Answer: Yes they do. Rancho shocks are well known for their reliability and comfort. They offer a lift of 2 to 2.5 inches right out of the box. Thus you can fit those large-sized tires you have been looking for. 
What's the difference between Bilstein 4600 and 5100?
Answer: The first and the only major difference between the 4600 and 5100 is the exterior look and finish. Besides the 5100 series is catered towards lifted trucks. 
Should I replace all 4 shocks at the same time?
Answer: It's a good practice to replace all the shocks at the same time if they have been serving for the same time. You should at least replace them in pairs for better results. 
Summary
Both Rancho and Bilstein are top rated brands in terms of practicality and performance. Rancho Quicklift offers more comfort while installation. On the other hand, Bilstein 5100 is a great budget option that ticks most of the boxes.
Frequently Asked Questions (FAQ)
It really depends on your individual needs and preferences. If you're looking for a shock with a long history of quality, Rancho is a great option. If you're looking for a slightly newer brand with a reputation for excellence, Bilstein is a good choice. Ultimately, the decision comes down to personal preference.
If you're looking for a quality shock absorber, Bilstein is a great option. The 5100 series is their most popular line, and for good reason. These shocks offer superior performance and durability, making them a great choice for off-road or heavy-duty use.
If you have a lifted truck or SUV and are looking for a shock that will improve its stability and control, the Bilstein 5100 series is a great option. If you have a stock vehicle or one with only a small amount of lift, the Bilstein 6112 series may be a better choice for you. Whichever you choose, you can be confident that you're getting a quality product that will improve your vehicle's suspension performance.
Related Article